In the past few years there has been a strong movement to have historically influential Canadian women featured on banknotes.
In the past some female royalty have appeared on Canadian banknotes, Princess Mary, Queen Mary, Princess Elizabeth and since 1954,Her Majesty Queen Elizabeth II. But as a general rule, Canadian banknotes have featured images of past Canadian Prime Ministers, all male on the bills.
A poll last year found that the vast majority of Canadians, about 80 percent, agreed that at least one influential Canadian woman (other than the Queen) should be featured on the front of a Canadian banknote.
A new series of banknotes will be issued in 2018 and an independent  council of seven men and women has been working on which woman would be featured.  From an initial list of 461 eligible possibilities, a first short-list of 12 women were selected
That list has since been shortened to five names:
Viola Desmond (1914-1965): A black businesswoman from Nova Scotia who famously challenged racial segregation at a film theatre in her home province ten years before Rosa Parks, and who contributed in the repeal of segregationist policies in Canada
Pauline Johnson (1861-1913): A poet and writer whose performances reflect both English and Mohawk traditions and who is recognized as helping to shape Canadian literature.
Elizabeth (Elsie) MacGill (1905-1980): The world's first female aircraft designer. She worked as an aeronautical engineer during the Second World War. Post war she co-authored a report on the Status of Women in Canada
Fanny (Bobbie) Rosenfeld (1905-1969): An Olympian who won gold in the relay race and silver in the 100 metre dash at the 1928 summer Olympics. Later she was a sports writer for Canada's influential newspaper the Globe and Mail.
Idola Saint-Jean (1880-1945): A Quebec journalist, McGill University professor, and feminist who fought for the women's vote in Quebec, won in 1940.
Perhaps surprisingly, world recognized painter Emily Carr was dropped, as was world famous author Lucy Maud Montgomery (Anne of Green Gables).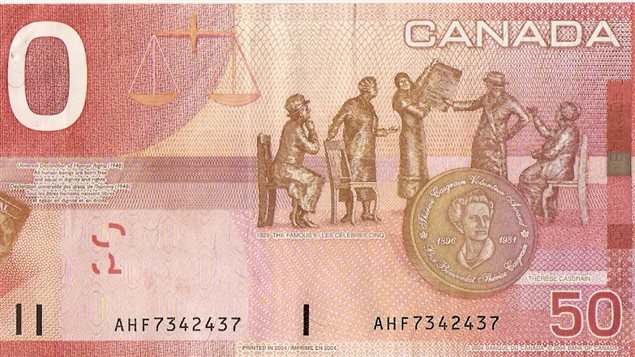 Women had been featured at least once on a banknote previously.  Between 2004 and 2012, Canada's "Famous Five"– women who fought for women's legal rights (Emily Murphy, Irene Marryat Parlby, Nellie Mooney McClung, Louise Crummy McKinney and Henrietta Muir Edwards) as well as an image of Thérèse Casgrain appeared on the $50 bill.  Nellie McClung had been listed as one of the possibilities to be on the upcoming banknote, but didn't make it to the short-list.
The final choice of banknote denomination, and the woman to be featured, will be announced December 8.
Additional information- sources