Tommy Boucher of Montreal wants to make the world a friendlier place.  He has been offering free hugs to anyone and everyone.
He got the idea from someone else giving free hugs about a year ago when he himself was going through a bad spell.  It made him feel better. Since then he's wanted to share the feeling.
He was travelling around to various stations in the Montreal subway system wearing his bilingual T-shirt which offers free hugs. He would stand there with his arms open waiting for people to approach him, of which there were many, and give a brief hug.
Until last week.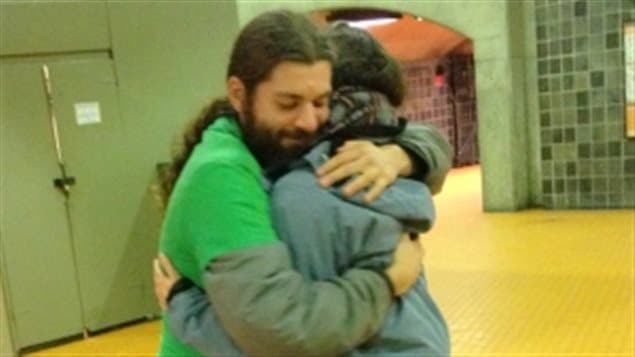 That's when transit police approached him and asked for his permit.  Boucher, surpised, said he had no permit for his free hugs.  The officers than flipped through their bylaw books until they found a section where they could charge him.
He was issued a ticket for $101 for transit bylaw R-036, section VIII, subsection II, Rule 17, to wit, "In a metro station, after obtaining the authorisation of the Société, it is permitted to offer for sale or lease services or merchandise, or to exhibit or distribute such services or merchandise, subject to the other restrictions in the present By-law. Under any other circumstance or in any other place, such activities are forbidden.
Boucher however was not selling anything..
Speaking to a CBC reporter he said "It's just giving hugs. So they found me guilty of what? Of spreading my arms? Of wearing the T-shirt? Of staying too long in the subway in the same place?"
Since the story made the news, the Societe de Transport de Montreal (STM) says it has withdrawn the ticket and let Boucher off with a warning, adding their concerns were about safety and fluidity of movement.
Boucher then wrote in his blog,  "I know these guys have the mission to keep the peace in the subway, but when they give a ticket to those who actually are in peace, where is the world going?"
Boucher says he will continue to offer free hugs, but in the public areas of metro stations outside the turnstiles, and in front of the stations.
Additional information- sources