The Cree of northern Quebec are asking the Quebec provincial government to stop all sport hunting of Caribou in the region in 2017-18.
The recent summer survey of the Leaf River herd and fall classification census show a massive decline in just five years.
In 2011 the herd was estimated at 430,000 animals, while this year's census shows it is now less than half at about 181,000.
In a press release today the Grand Council of the Crees chief Matthew Coon Come wrote, ""We are very concerned about the conservation of the herd and the impacts of this dangerous decline. Caribou is an important resource for our northern communities that rely on it for food, clothing, and the pursuit and sharing of our cultural traditions and knowledge. The Quebec Government must comply to their obligations and respect our treaty rights that prioritize our needs for sustenance".
There are opinions that the George River herd, once in the hundreds of thousands, which also ranges through parts of Labrador, may not exist in as little as five years time.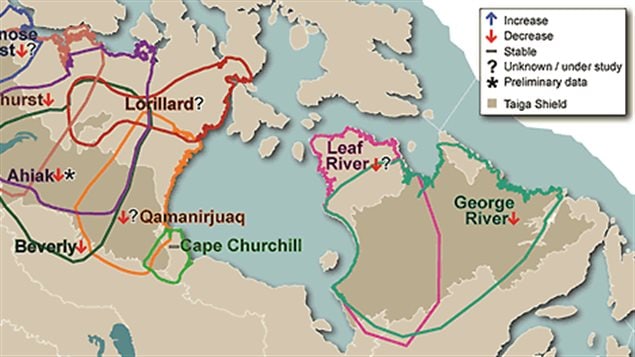 The James Bay Northern Quebec Agreement (JBNQA) and the Northeastern Quebec Agreement (NEQA) contain obligations upon the Government of Quebec in regards to taking action to preserve the caribou population which the Cree, the Naskapi and the Inuit have depended upon for centuries.  Those agreements stipulate that indigenous subsitence hunting must take precedence and outside and sport hunting be reduced when animal populations are threatened.
This year, visiting hunters will be allowed to take  up to 2,732 animals in the area.
The Cree say they want to end the sport hunt even though it will hurt many Cree outfitting and guiding operations. They want the province of Quebec to close sport hunting as of January 1, 2017.
The Cree also say that as Caribou herds decline elsewhere, many aboriginal groups are asking to hunt on the Cree territory, something the Cree now say they cannot allow given the collapsing herd numbers.
Isaac Voyageur, Director of Environment and Remedial Works, Cree Nation Government said the severe restrictions on hunting are necessary as, " the impacts of the herd's extinction will be far greater on the food security and culture of the Native people. The  survival of a people and their traditions must be considered a priority over commercial activity".
Quebec's wildlife ministry is citing habitat loss, hunting, and predators such as wolves and black bears as possible causes of the "worrying" decline.
additional information-sources