It is officially "Sir John A. Macdonald Day" in Canada.
The day was declared by an act of Canada's Parliament in 2002 to commemorate the birth of the man who is considered to be the father of the Canadian Confederation, and the country's first Prime Minister.
It is not an official holiday in Canada, and indeed relatively few people in this country are even aware of the day, perhaps especially sad since this year marks the 150th anniversary of Confederation.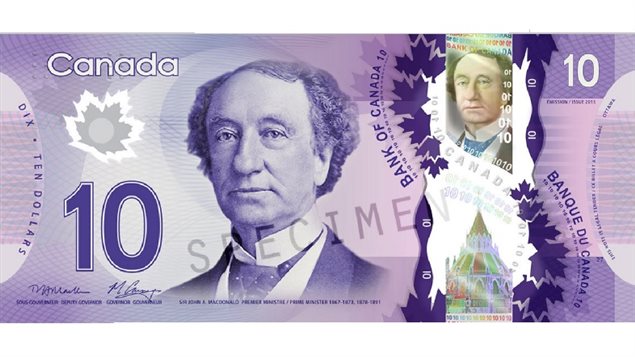 Historica Canada is the largest independent organisation devoted to enhancing awareness of Canadian history and citizenship. In June 2014, they commissioned a poll by the firm Ipsos-Reid which surveyed 1,001 Canadians
The survey results released in January 2015, the 200th anniversary of Macdonald's birth,  found that over a quarter of Canadians (28%) couldn't identify 1867 as the year of confederation of Canada, and one in five couldn't even venture a guess.
A similar number (26%) couldn't correctly identify Sir John A Macdonald as Canada's first Prime Minister, and one in ten couldn't even offer a guess as to who was our very first Prime Minister. This in spite of the fact that he has always been featured on the common ten dollar banknotes.
On January 11(*), 1815 a third child was born to a humble textile merchant and his wife in Glasgow.  The boy was named John Alexander McDonald.(**) Of humble beginnings, he would become the most important figure in Canada's history.
Indeed it is entirely likely that without him there might not even be a Canada, or at the very least, not a Canada as we know it today.
In a speech at conference of leaders in which he was promoting the idea of Confederation he said, "I would again implore the House not to let this opportunity pass. It is an opportunity that may never recur. At the risk of repeating myself, I would say, it was only by a happy concurrence of circumstances, that we were enabled to bring this great question to its present position. If we do not take advantage of the time, if we show ourselves unequal to the occasion, it may never return, and we shall hereafter bitterly and unavailingly regret having failed to embrace the happy opportunity now offered of founding a great nation…"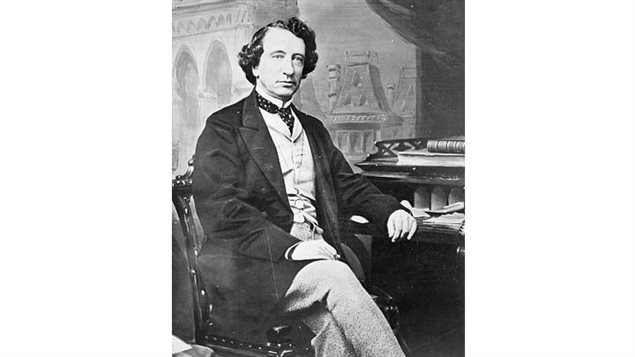 John Macdonald was five years old when his father's business failed, and the family decided to emigrate to the Canadian colonies. They ended up in Kingston, Upper Canada, in what is now Ontario.
 His mother tongue was Gaelic, but he also learned English and later as a student entered into law practice at the tender age of 19.
Becoming quite successful he entered politics in 1844 in the United province of Canada (Upper and Lower Canada had become united by British Parliamentary Act in 1841 to become Canada West and Canada East in a single legislative assembly. They are now the provinces of Ontario and Quebec)
He was later elected to the position of Premier of the legislature in 1857 during what was a politically unstable time.
Initially he was not particularly interested in a closer union with the then three other British colonies north of the United States. By 1860 however he is fully aware of the growing power and influence of the US, and more so of its desire to expand and occupy all of North America.
To protect the United Colony of Canada (Canada west-"Ontario", and Canada-east- "Quebec")  from such US expansionist aspirations he began a series of conferences with the other British colonies of New Brunswick, and Nova Scotia to create stronger political ties among them.
A seasoned orator, the shrewd politician then helped formulate the conditions for Confederation.  On July 1st, 1867 the new country , and the Dominion of Canada is declared comprised of the four political entities.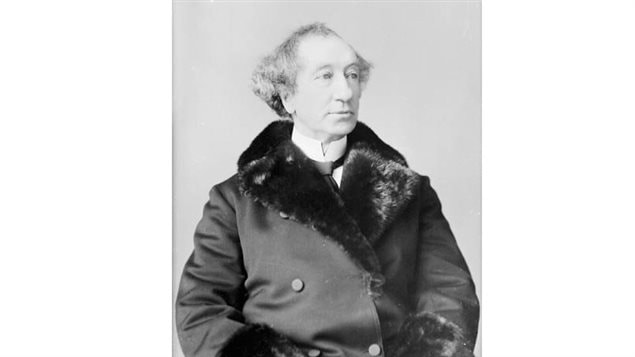 Sir John A Macdonald was then elected to become the newly minted country's first Prime Minister, in power from 1867 to 1873, and then again from 1878 to 1891.
Canada acquired the vast Rupert's Land in 1870 which stretched north and west from  "Ontario"  to British Columbia. From this Manitoba was created  and joined in 1870, as did the Northwest Territories,  British Columbia joined in 1871, Prince Edward Island joined in 1873. The other provinces of Alberta and Saskatchewan were created from Rupert's land and joined later after Sir John's death.
 During his leadership he succeeded in expanding Canada's borders from sea to sea to sea, enabled the building of a railway to unite the country in spite of huge controversy and more than one near financial collapse.
He also created the NorthWest Mounted Police (eventually the RCMP) which established the order of law across the country.  Because of this Canada never hada "wild west" type of situation as was the case in the US.
His political career was certainly not without great controversy, including financial scandal, and the heavy criticism surrounding the hanging of Metis leader Louis Riel.  In spite of those and other controversies, he is clearly viewed  today as the architect of the country and as the "Father of Confederation"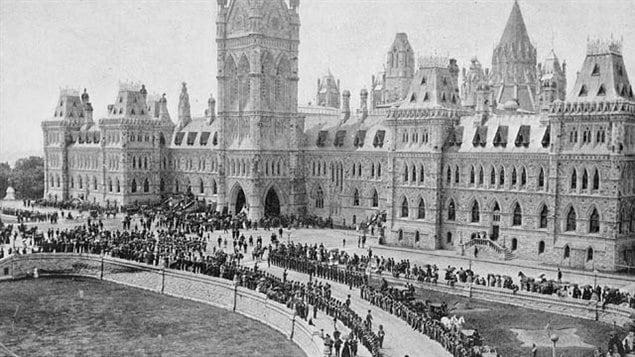 This epic figure in the history of Canada, died on June 6, 1891 having laid down the framework for a great nation.
*It is likely Sir John was born on the 10th but January 11 is considered the official birthdate as recorded by his father, although a Parish record  reads "Glasgow, January 1815: Hugh McDonald Agent & Helen Shaw- a law(ful) Son John Alexander born 10th, Witn. (witnesses) Donald and James McDonald
**The spelling of the last name seems to have changed somewhere along the line from McDonald to Macdonald
Canada Heritage Minute- Sir John A and Confederation

Additional information- sources