Research at the University of New Brunswick has developed a vastly improved method to detect changes on the earth, whether natural, or in cities.
It's believed this will greatly aid in delivering help to cities, or any area hit by major natural disasters by determining quickly what areas have been affected and to what extent.
Shabnam Jabari (PhD) is a postdoctoral fellow at the University of New Brunswick in the Department of Geodesy and Geomatics Engineering
Listen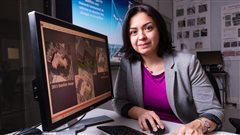 The field of Geodesy and Geomatic Engineering is concerned in large part with the making and study of geographic maps.
While studying this discipline in Iran, Jabari began her research efforts after a major earthquake struck the city of Bam. As well as causing massive destruction, the quake killing vast numbers of people. Many died in the quake, and many afterward while waiting for aid to reach them.
Using aerial and satellite imagery, she wondered if a better system could be developed to determine quickly the extent and location of damage in order to help first-responders know where the need is greatest, and how to get there. The same technology could be used to help in subsequent rebuilding.
Jabari's new development in "change detection" is expected to be a major help to first responders and humanitarian aid groups in the event of disasters, but also in a variety of civil planning and development areas, security and government agencies, insurers, and others.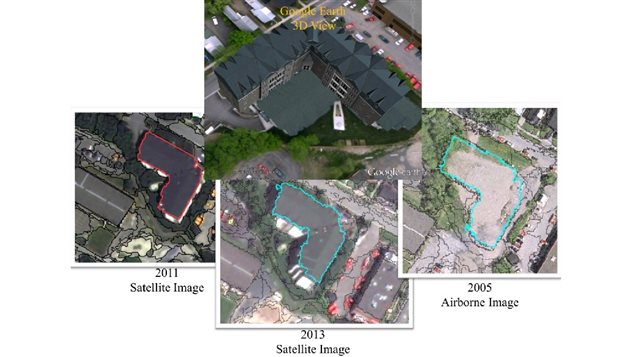 The research was published in the online journal  Photogrammetric Engineering & Remote Sensing under the title, "RPC-Based Coregistration of VHR Imagery for Urban Change Detection" (abstract available HERE)
Satellites can and do capture clear images of the ground they pass over. In the event a city is struck by some disaster, such images before and after can determine where the damage is, and to what extent.
Except that the current technology requires the before and after images to be taken from almost exactly the same satellite position and under the same weather conditions in order to use "automatic" or computerised comparisons: non-exact images vastly reduces the accuracy of automatic/computerised change detection. If images from satellites or planes are not exact,  a very time and manpower consuming visual/manual examination has to be performed.
Working with UNB's renowned remote sensing professor Yun Zhang, Jabari developed a software that enables analysis and comparison of images not taken from exactly the same spot.
It also allows for use and comparison of other plane or drone aerial images. This greatly increases the flexibility of the computer analysis of changes and enables analysis of change from different perspective. This further enables a manifold increase in accuracy assessment of change with an equally great reduction in time and manpower to determine the extent and location of changes.
It represents a vast improvement on software currently available. The next step is now being taken towards development of the software for commercial use.
The research was funded by part of Dr. Zhang's Natural Sciences and Engineering Research Council of Canada (NSERC) Discovery Grant.