Curling is a sport that is widely believed to have originated in Scotland and followed Scots as they moved to the colonies in what is now Canada a couple of centuries ago.
Canadians are world champions at the game, with its clearly defined rules and practices. So, how could you make a new game out of it?
Well, by combining it with a well-known indoor game, crokinole, which is (perhaps) another Canadian invention..
While the origins of crokinole are a bit murkier, it seems to have evolved in Mennonite communities in Ontario in the mid-1800's.  It appears to be an evolution of the old 16th century British game of "squails" or the later game from India known as "caroms"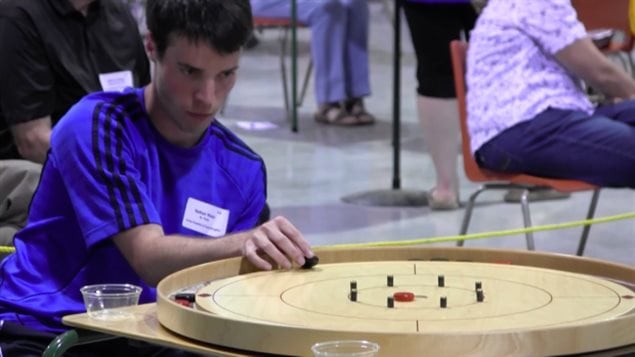 The earliest known crokinole board was made in Sebastapol, Ontario, less than two kilometres from the town of Tavistock itself the site of the world crokinole championships. That board was apparently made by a "good Lutheran" named Eckhardt Wettlaufer.
The game has been especially popular however in Manitoba.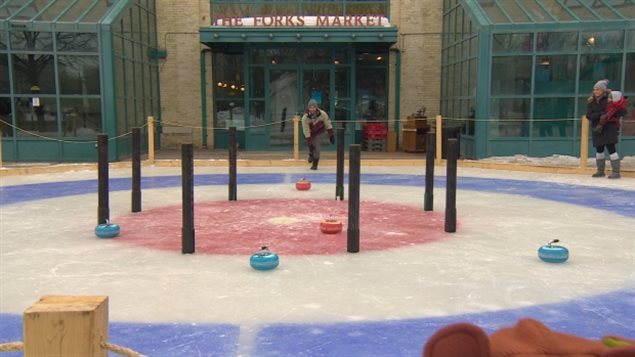 World's first .. Rink? Sheet?
The new game combining the two is being called "crokicurling".  Although the name is a bit awkward, the new sport seems to be quite entertaining to the people who try it.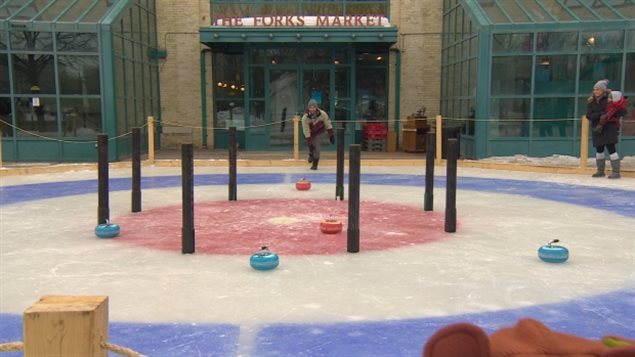 What is very probably the world's first crokicurling ice surface has been created in Winnipeg, Manitoba.  The idea grew out of a crokinole board in a warming hut beside the city's river skating trail where people could play while the took a break from their outdoor activities,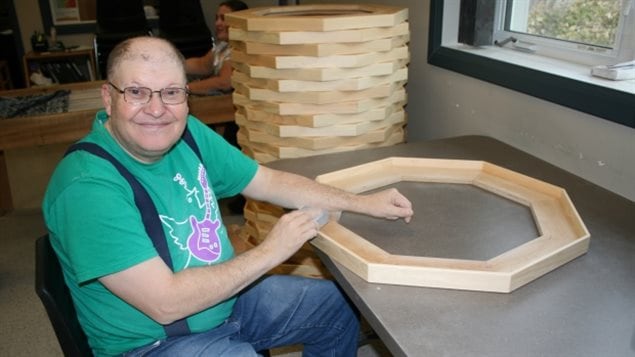 The warming hut was designed by Winnipeg's Public City Architecture.  The firm's architects, Liz Wreford and Leanne Muir, were playing crokinole themselves at the office last summer, where the idea of creating a large outdoor version of crokinole sprang up.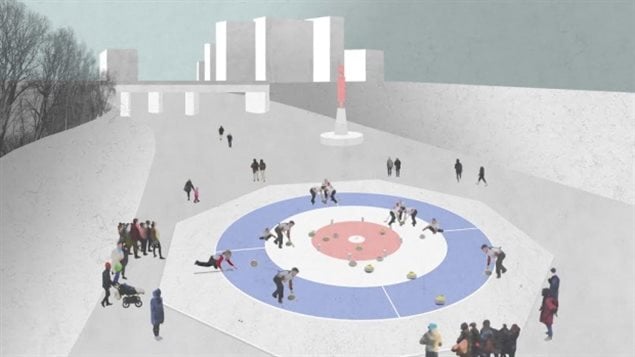 Although only in Winnipeg for the time being, the response had been enthusiastic and its creators think it will not only return next year, but think the idea will catch on elsewhere as well.
Additional information-sources