Hundreds of lawyers and law students have fanned out to Canadian airports to help people stranded by U.S. President Donald Trump's travel ban. They are in direct contact with U.S. lawyers to keep up with the latest legal information.
On January 27, Trump issued an order barring people from seven Muslim-majority countries from entering the U.S. The order included those who had visas and green cards. On Friday, February 3, a U.S. judge halted implementation of the ban and people are now being admitted into the U.S. However, that judgement is being challenged by the Trump administration and the situation could change soon. All this has left much confusion about what that means for people trying to cross the border now.
'It's absolutely devastating'
"It's very complicated," says Mitchell Goldberg, president of the Canadian Association of Refugee Lawyers. "We have had since the beginning of this, reports of airlines or individuals—perhaps ticket agents who are either going rogue or are misinformed—denying people entry onto the planes that are flying to the United States. So, we are continuing to coordinate volunteers to be at the airports because the situation is very volatile and it's absolutely devastating to be turned back."
Listen
Among those getting help at airports are people trying to get back to class, to jobs, to their families in the U.S. and "most alarmingly of all are the thousands of refugees who have gone through two years of screening by four different U.S. government departments, had been approved, had been issued visas, were on their way, some of them have family in the United States and were forced to go back to refugee camps," says Goldberg. Some are now eligible to enter the U.S. and are in desperate need of legal advice as to how to proceed.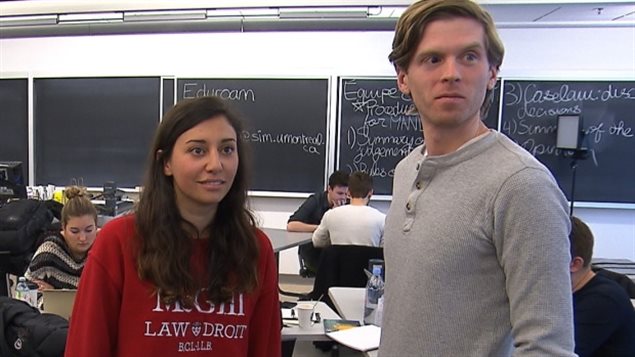 Demands Canada accept more refugees
In addition, the lawyers are asking the Canadian government to lift its cap on the number of refugees it will accept. The limit is currently 40,000 for 2017 but there are many private groups and religious organizations which are willing to sponsor refugees in light of the U.S. travel ban.
The lawyers have joined with several organizations to ask the Canadian government to lift the Canada-U.S. Safe Third Country Agreement. This agreement prevents refugees who are in the U.S. from applying for settlement Canada because it assumes both are safe countries for refugees. The lawyers and human rights organization argue that the U.S. is no longer a safe country and say if the government does not act they will take the matter to court.
They have formed a new group called the Canadian Cross-Border Legal Coalition.