With the Trump administration in the US hardening its stance on refugees, asylum seekers, and even travel from certain Muslim countries, Canada stands in stark contrast.
However, a new poll suggests that Canada's liberal policies may be pushing more Canadians towards a limit of how "open" Canada should be.
Canada's refugee target for 2017 is 40,000 people.
The Angus Reid survey just released says most Canadians still support the government's refugee policies, but a now significant minority are saying that number is too high.
The numbers show 47 percent think the current government target is about the right number. However, close behind are 41 percent who say the number is too high and we should not be taking in more refugees.
Interestingly some 11 percent said we should take in more.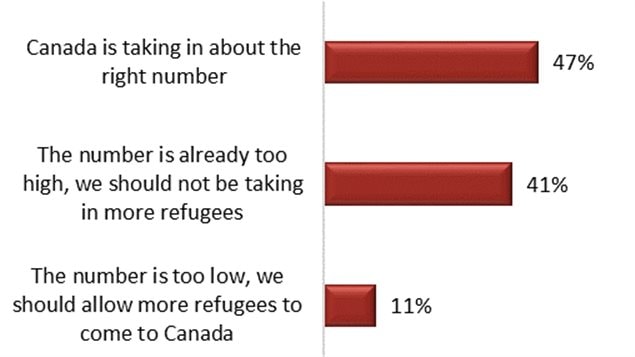 As for how the government has handled resettlement issues, there's been a slight increase in those who say the government has done an OK or good job, some 60 percent, while 40 percent say it's not done so well, or done a bad job of it.
Also interesting, when asked if refugees would be welcomed in their neighbourhood, about 40 percent said they would not.
Meanwhile  one in four Canadians would agree with President Trump's  policies on travel, immigration and refugees.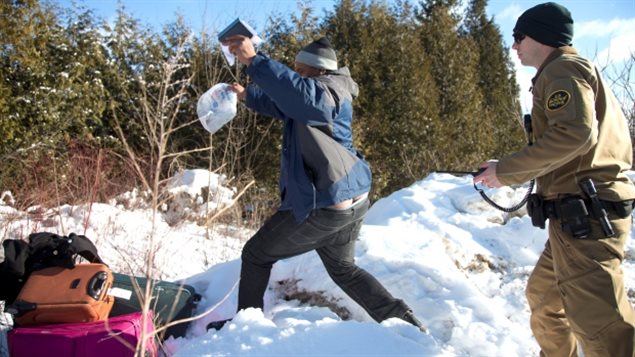 Another aspect asked about "fitting in". In that question some 54 percent  expressed the opinion that  refugees from substantially different cultures don't do enough to adapt to Canadian culture and society.
Refugees crossing illegally from US to Canada
Meanwhile, the number of claims for asylum made by refugees at the border has been doubling.
In 2014, there were 3,747, in 2015 it was 4,316, and last year it grew to 7,023.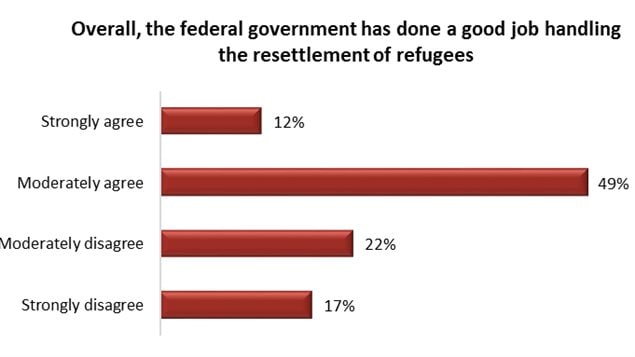 With the arrival of the Trump administration there has now been an increase in illegal crossing into Canada  as people walk across remote areas of the border, notably in Manitoba and Quebec. During Saturday night February 18, some 22 people made asylum claims after they walked across the border in Manitoba. In Quebec alone, there were some 452 asylum claims made just in the month of January this year.
At least two opposition Members of Parliament have called on the government to take stiffer action to stem the tide.
Conservative MP Tony Clement for example has tweeted "Illegal crossings are unsafe and a burden on local communities. Our laws should be enforced".
Additional information- sources