University of Toronto professor Jordan Peterson is a highly respected educator and was completely uncontroversial,  until recently.
That's when LBGTQ groups began a concerted campaign against him for his decision not to use made-up pronouns they chose to describe themselves.
Instead of "he" or "she" for example, they insisted he address them as "ze", "zim", "ve", "thon","zir" "zer" and "they"(referring to a single person), and any one of several others
RCI-Nov 2016-Peterson under attack
A group of students at Scotland's largest university has put forward his name for Rector in an election to be held there in March.
The Rector represents the student population to the university executive.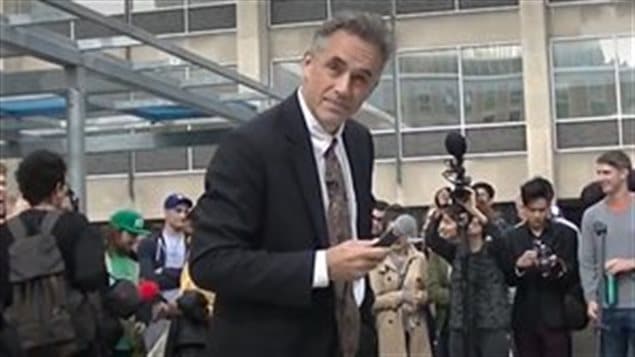 However, the University has a policy in section E 4.6 "In Class/In front of Colleagues" which states "The trans person should be referred to by their preferred name and pronoun."   This would run counter to Professor Peterson's position.
In a Post Media article he says his nomination by students could be a sign of concern over such policies.
"That's part of the reason why there are students nominating me, because they're not so sure those policies are such a good idea," he said. "I think those policies are ill-advised and dangerous. They certainly pose a threat to free speech."
Peterson, a clinical psychologist is scheduled to  give a lecture at the National Gallery of Canada in Ottawa on March 9 entitled "exploring the psychology of creativity.   LGBTQ  groups have been mounting a campaign to shut down the appearance by having it cancelled.
The National Gallery in an email to RCI wrote in response

"Jordan Peterson is a highly-accomplished and published clinical psychologist. The Gallery invited him to speak about his specific research interest in the psychology of creativity, a subject he has spoken about at scientific conferences across North America and about which he has co-authored over ten scientific papers.  Since the notion of creativity is central to our understanding of art, we believe Peterson's remarks from the perspective of clinical psychology will be relevant and of interest to our audiences. The Gallery regularly invites recognized experts who contribute to our understanding around important issues relating to art".

One of Professor Peterson's many youtube videos explaining his position, free speech, and the campaign against him

Additional information-sources