U.S. President Donald Trump on Wednesday told the leaders of Mexico and Canada that he will not pull out of the North American Free Trade Agreement, but will instead move quickly to begin renegotiating it with them, a White House statement said.
The announcement came after White House officials disclosed that Trump and his advisers had been considering issuing an executive order to withdraw the United States from the trade pact with Canada and Mexico.
The White House made the surprise announcement in a read-out of calls between Trump, Prime Minister Justin Trudeau and Mexican President Enrique Pena Nieto.
Changing the tune?
According to the read-out, President Trump agreed not to terminate NAFTA at this time and the three North American leaders agreed to proceed swiftly, according to their required internal procedures, to enable the renegotiation of the NAFTA deal to the benefit of all three countries.
"It is my privilege to bring NAFTA up to date through renegotiation," Trump said. "It is an honor to deal with both President Peña Nieto and Prime Minister Trudeau, and I believe that the end result will make all three countries stronger and better."
However, in his Twitter post Thursday morning Trump warned "that if we do not reach a fair deal for all, we will then terminate NAFTA."
I received calls from the President of Mexico and the Prime Minister of Canada asking to renegotiate NAFTA rather than terminate. I agreed..

— Donald J. Trump (@realDonaldTrump) April 27, 2017
…subject to the fact that if we do not reach a fair deal for all, we will then terminate NAFTA. Relationships are good-deal very possible!

— Donald J. Trump (@realDonaldTrump) April 27, 2017
A crucial relationship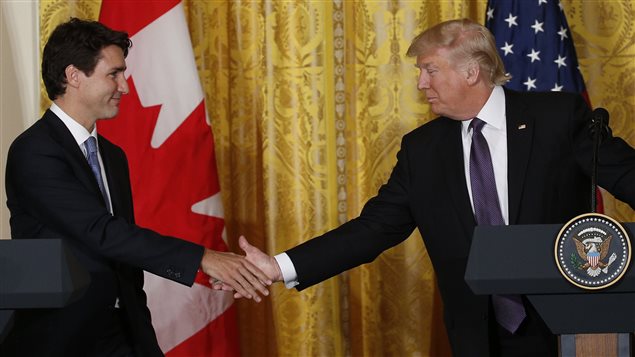 Responding to questions about Trump's announcement, Trudeau underlined that he felt it was "really important to have a constructive working relationship with the United States and its government."
"This is something that matters deeply to our economy, it matters to workers and farmers across the country, it matters to all Canadians in terms of the cultural, family ties and connections that we have in every different way with our closest friends, neighbours and allies," Trudeau told reporters Thursday in Gray, Saskatchewan.
Trudeau said he tried to convince Trump that walking away from NAFTA will not only be bad politics but also bad business.
"We had a good conversation last night and he expressed that yes, he was very much thinking about cancelling and I highlighted that quite frankly whether or not there was a better deal to come there were an awful a lot of jobs and an awful a lot of industries right now that have been developed under the NAFTA context," Trudeau said. "And disruption like cancelling NAFTA, even if it theoretically, eventually might lead to better outcomes, would cause a lot of short and medium-term pain for an awful a lot of families."
That's not something that the either leader would want, Trudeau said.
Improving NAFTA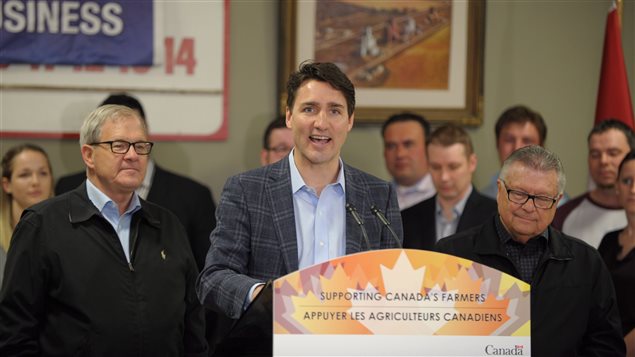 "We agreed that we could sit down and get to work on looking at ways to improve NAFTA as it's been improved before in a thoughtful way that will be in the benefit of all our countries and that was exactly what he agreed with," Trudeau said.
In a relationship as big and complex as the one with the United States there will always be issues that need to be discussed every now and then, Trudeau said, but he also pointed to  "tremendous opportunities to work together for our mutual benefit."
"I'm happy to engage with the president on a broad range of issues quite regularly, and what we talked about over the last couple of day has been trade and emphasizing that NAFTA has been improved a dozen times over the past 20 years," Trudeau said. "And we're happy to sit down and talk about how it can be improved now, how we can create better opportunities for our citizens, greater economic growth for our countries and continue to amplify the impact and the strength of the North American economy."
A long process ahead
Foreign Affairs Minister Chrystia Freeland said on Wednesday that "Canada is ready to come to the table at any time."
However, it's important to bear in mind that NAFTA negotiations have not started yet, she said.
The American side would need to trigger a 90-day consultation period. Discussions on renegotiating NAFTA would begin only after that, Freeland said.
"We're pretty far from that conversation at this point," she added.
However, if the U.S. administration changes its mind and decides to withdraw from the pact, it would have to give Canada and Mexico six months' notice.
'Catastrophic trade deal'
Trump had campaigned on a promise to renegotiate the trade deal or scrap it altogether, blaming it for wiping out U.S. manufacturing jobs because it allowed companies to move factories to Mexico to take advantage of low-wage labor.
"I am very upset with NAFTA. I think NAFTA has been a catastrophic trade deal for the United States, trading agreement for the United States. It hurts us with Canada, and it hurts us with Mexico," Trump told The Associated Press in an interview last week.
The moves came days after the administration announced it would slap hefty tariffs on softwood lumber being imported from Canada. Trump has also been railing against changes in Canadian milk product pricing that he says are hurting the American dairy industry, calling Canada's dairy supply management system a "disgrace."
With files from The Associated Press