Since 2006, Ontario has been instituting increasing limitations on the sale and use of tobacco; Those laws now include no smoking in enclosed public spaces, enclosed work spaces, in vehicles with passengers under age 16, no smoking on bar and restaurant patios, and lots more.
Ontario even has "smoke-free enforcement officers".
Harry Kraemer, age 76, knows them all too well. He runs a cleaning business in southwestern Ontario. Even though he knows smoking is not good for him, it's a 60 year habit he's not going to break. Still he tries to obey the rules.
Lately it's been getting out of hand. He says the "smoking police" visited his work last year. He sometimes has a puff in his upstairs closed office with the window open and the fan on.   He says smoke never goes downstairs where the employees are. Nevertheless, the inspectors came and opened a drawer to find an ashtray and a cigarette butt. He was handed two tickets of $350 each.
He admits he might have used strong language at the time.
Last fall, they watched as he went to a drive in fast food outlet, ordered a doughnut and coffee, and sat in his luxury vehicle, and lit up.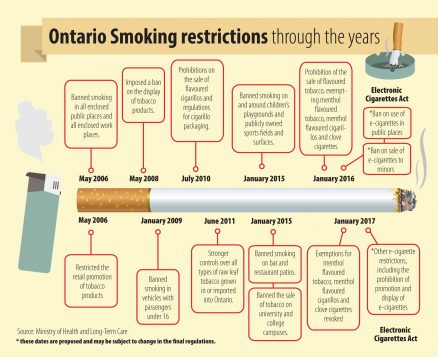 The enforcement officer came over and because the vehicle is registered to the company, handed him three tickets – for smoking in an enclosed workplace, failing to have a no-smoking sign in his SUV, and failing to properly supervise a workplace.
Kraemer fought and won, with the Justice of the Peace commenting the tickets went too far and is quoted as saying "."It's just a waste of taxpayers' money, as far as I'm concerned".
PostMedia says that the programme-manager for the chronic-disease prevention and tobacco-control team at the Middlesex-London Health Unit, Linda Strobo, wouldn't speak specifically about this case, but said she doesn't think the investigators were not out of bounds when they charged Kraemer in his vehicle.
A somewhat similar case occurred in 2009. In that incident a long-haul tractor trailer driver was on Canada's busiest major highway, the 401.
He was pulled over and handed a $305 ticket for smoking in a workplace.
Iin 2007 another trucking company was fined for the same thing. In that case the company was liable for up to $10,000.  That case went up to the Ontario Superior Court level, when the charge was suddenly dropped without explanation.
additional information-sources