Canada is contributing another $86 million to assist famine and war ravaged South Sudan, International Development Minister Marie-Claude Bibeau announced today.
Bibeau made the announcement on the final day of her four-day trip to the world's youngest country where millions have been displaced by a civil war.
The new money, which comes on top of $36.9 million in humanitarian assistance to South Sudan Ottawa announced in March, will improve access to basic health services, including family planning and reproductive health care for women and girls as well as increasing access to food, Bibeau said.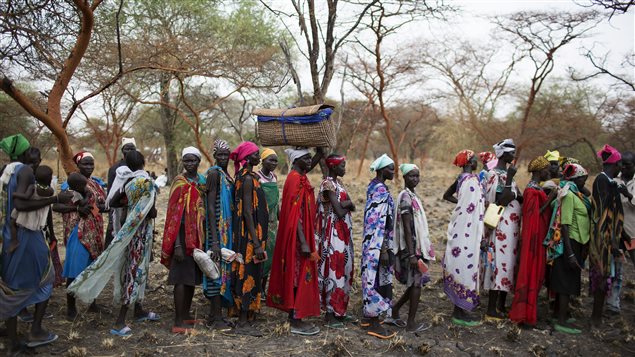 The ongoing conflict in South Sudan has caused massive displacement, extensive violence along ethnic lines, dire food shortages and unimaginable levels of suffering among South Sudanese people, particularly women and children, Bibeau said.
More than four million South Sudanese have been internally displaced and another two million have fled the country as refugees because of the four-year-old civil war.
Over 5.5 million people face severe food insecurity, with an estimated 100,000 of them facing famine, according to United Nations estimates.
Bibeau met with South Sudan's President Salva Kiir Mayardit and Health Minister Riek Gai Kok to discuss the conflict.
"Only the silencing of weapons can alleviate the humanitarian crisis that is now affecting close to half of South Sudan's population," Bibeau said in a statement. "We need to work toward peace and pave the way for a conflict-free South Sudan."
#Canadian Minister @mclaudebibeau visits WFP food dist. & airdrops in #SouthSudan to see how working with partners we are #SavingLives pic.twitter.com/cLqKSYXTFO

— World Food Programme (@WFP) June 18, 2017
She also visited Jonglei region in the northeast of the country, where she observed the World Food Programme's humanitarian relief operations and spoke with local civilians, especially women, affected by the crisis, Global Affairs said in a statement.
The new funds are also an addition to the Famine Relief Fund recently announced in response to the widespread food crises in South Sudan, Somalia, Nigeria and Yemen, in which the government will match the contributions made by Canadians until June 30.
In the 2015 to 2016 fiscal year, Canada's international development assistance to South Sudan totalled over $91 million, Global Affairs said.
I met with strong and resilient young mothers and their babies. ?? is proud to support Al Sabbah Hospital #SRHR pic.twitter.com/f0dv5Ib2T9

— Marie-Claude Bibeau (@mclaudebibeau) June 19, 2017
With files from The Canadian Press