The Canadian government is ordering a temporary mandatory slowdown for vessels of 20 metres or more in length to protect the population of endangered North Atlantic right whales in the Gulf of St. Lawrence, federal officials announced today.
The announcement by Transport Minister Marc Garneau and Fisheries and Oceans Minister Dominic LeBlanc comes following the deaths of ten of the endangered whales in the gulf since early June. Two others have washed up dead in the Massachusetts area in recent weeks.
Preliminary necropsy reports on some of the gulf deaths suggest ship strikes and fishing gear entanglement are possible causes.
"In recent months an alarming number of deaths involving North Atlantic right whales have captivated the imagination of Canadians and people around the world," LeBlanc said at a joint press conference in Shédiac, New Brunswick. "This endangered species of marine mammal needs protection and the Government of Canada and Canadians will do what we have to do to ensure not only the protection of North Atlantic right whales but also the recovery of this species as well."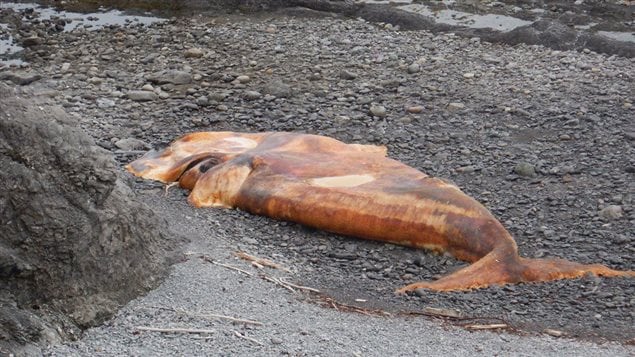 There are only about 500 hundred right whales left in the world and research shows that for an unknown reason a large part of them – anywhere between 80 and 100 mammals – have migrated to the Gulf of St. Lawrence this summer, LeBlanc said.
The area has an intense commercial fishery and is a busy transport corridor for maritime shipping, he said.
"In our efforts to do everything possible to prevent further whale deaths, our government is today implementing a temporary mandatory slow down for vessels of 20 metres or more in length," Garneau said. "Speed must be reduced to a maximum of 10 knots when travelling in the western Gulf of St. Lawrence from the Quebec north shore to just north of Prince Edward Island.  This temporary measure is effective immediately."
Transport Canada inspectors, with assistance from the Canadian Coast Guard's Marine Communications and Traffic Services, will enforce this precautionary measure until the whales have migrated from the areas of concern, Garneau said.
Failure to comply will result in a penalty of up to $25,000, he said.
The government has also taken measures to limit potential hazards to the whale population posed by the region's fishery industry, LeBlanc said.
"To help prevent entanglements, the Snow Crab Fishing Area 12 in the Southern Gulf of St. Lawrence was closed, and other fixed gear fisheries such as rock and toad crab fisheries have either been restricted to fish in shallow water or have had a delayed opening," LeBlanc said. "Future fisheries decisions relating to the Southern Gulf of St. Lawrence will take the presence of North Atlantic right whales into account."
Monitoring and enforcement of new measures will continue with Transport Canada's National Aerial Surveillance Program and Fisheries and Oceans surveillance overflights to aid these new measures, Garneau said.
The Shipping Federation of Canada (SFC), an industry group that represents the ocean-going flying-flag shipping industry which carries the majority of Canadian exports and imports, said while it supports the government's efforts to protect the endangered whale population, it wants to make sure the measures do not unduly hurt the industry.
The shipping industry has been quite active on those issues both for the North Atlantic right whale, the belugas and the Southern Resident killer whales off the Pacific Coast, said Sonia Simard, the SFC's director of legislative and environmental affairs.
"Now, it's an issue with the size and location of the area," Simard told RCI. "We understand the situation is critical and the need to take precautionary action. Now we need to seat down and ensure that this precautionary measure is well-targeted as much as possible so that it delivers on the conservation objective while minimizing the impact on shipping."
The mandatory slowdown could have serious consequences for the shipping industry and the Canadian economy, Simard warned.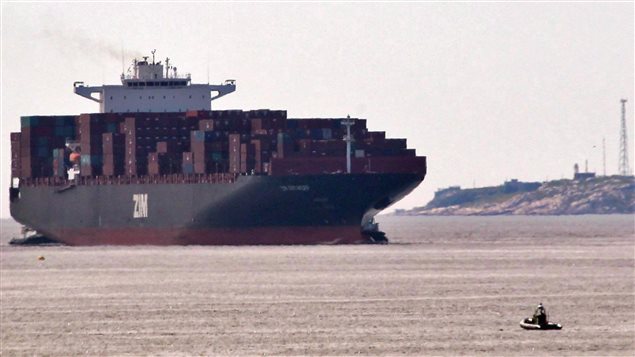 For example, a container vessel usually travels at speeds between 18 and 20 knots, Simard said.
"The container vessels are like your bus," Simard said. "They have a very tight schedule to make."
Slowing  down to 10 knots would add anywhere between five and eight hours to the vessel's journey to the Port of Montreal, she said.
For bulk carrying vessels, which usually go slower than container ships, the slowdown could add three to five hours to their journey, Simard said.
"In navigation time is of the essence," she said. "When you look at adding time to a voyage, that means additional costs for ship owners and on the other hand it could have an impact on the overall efficiency of the shipping corridors and the competitiveness of Canada versus other ports."