The Royal Canadian Mounted Police has intercepted more than 3,800 asylum seekers who have crossed the Canada-U.S. border in Quebec illegally during the first two weeks of August, the federal police force said Thursday.
The figures were released at a joint technical briefing by the RCMP, which is responsible for border security between legal border crossings, the Canada Border Services Agency and Immigration and Refugees and Citizenship Canada (IRCC), which takes care of legal border crossings.
"[These numbers] are unprecedented," said RCMP spokesperson Claude Castonguay. "Our officers are patrolling 24 hours day, all year long, and we have never seen such numbers coming in."
According to the IRCC, the RCMP also intercepted 2,996 asylum seekers crossing illegally into Quebec in July.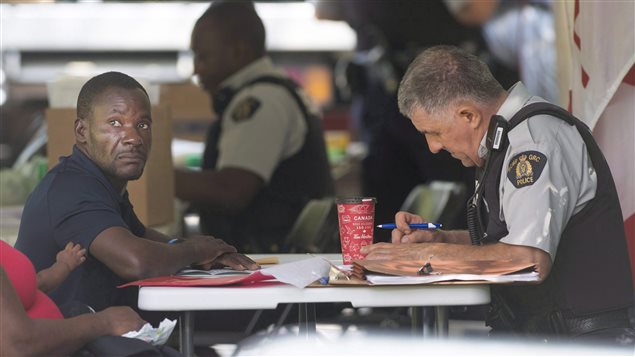 According to statistics provided by the federal government, from Jan. 1 to June 30 the RCMP has intercepted 4,345 asylum seekers. The majority of them, 3,350, crossed into Quebec, while 646 crossed into Manitoba, and 332 people crossed into British Columbia.
Many of the recent refugee claimants crossing into Quebec are Haitians who have been living in America for years but now face deportation.
In May, U.S. President Donald Trump announced that he would not be extending temporary protection status for Haitian nationals past January, when it's set to expire.
It was granted after the 2010 earthquake, but now the Department of Homeland Security considers Haiti to be a safe country.
Canada's own program granting Haitian nationals temporary refuge here after the earthquake has already ended, after it was extended twice by the Trudeau government.
With files from CBC News