Two Canadian cabinet ministers travelled to the border between Canada and the United States on August 21 to warn migrants they must meet certain criteria to be allowed to stay in the country and that they would not be fast-tracked. A wave of migrants has crossed from the U.S. in to Canada, avoiding official border posts where agents would have returned them to the United States under the Safe Third Country Agreement. Asylum seekers crossing elsewhere are processed inside Canada.
The ministers sought to disabuse migrants of the notions that they could stay in Canada for purely economic reasons and that the process would be easy.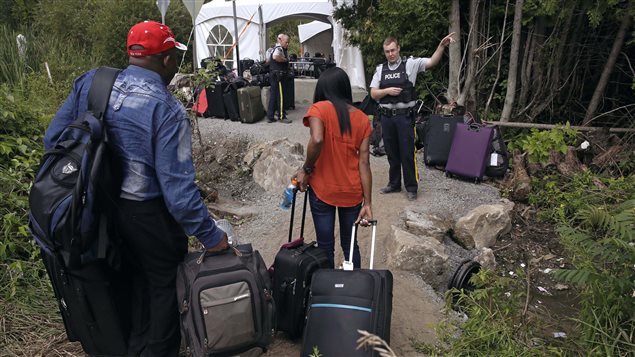 Refugee claimants must meet criteria
But immigration lawyer Alastair Clarke says asylum seekers must meet criteria set out by the United Nations' 1951Geneva Refugee Convention or Canadian law on protected persons. "Under the first definition, they need to have a well-founded fear of persecution based on race or some other category," says Clarke.
"And in the second definition, they need to have some kind of threat against them, some kind of fear of torture or violence against their lives and they need protection."
Listen
Ministers informed migrants, reassured citizens
The number of migrants coming in to Canada at the Quebec border has increased dramatically over the last two months and now has abated to about 140 a day. Officials have set up tents, houses some in Montreal's Olympic stadium and transported others to a temporary shelter in Cornwall in the province of Ontario. More officers have been brought in to handle the extra cases.
The ministers' trip was likely designed to not only warn migrants about the difficulties of gaining entry into Canada but also to reassure the citizens who may be alarmed by the thousands of people who have come to claim asylum in recent months.
There is a particularly large number of claimants originally from Haiti and the government is dispatching a member of Parliament of Haitian origin to Miami, Florida to dispel the myths about easy entry into Canada.