Canadian Imam not involved, and news story completely made up.
In the face of disaster, fake news stories even ones advertised as such, can still cause problems.
Hurricane Harvey recently devasted the major U.S city of Houston Texas and the surrounding communities.  Thousands were forced out of their homes.
Then came news that a mosque acting as a refuge was turning away Christians- "infidels"… but it was a fake story, on an advertised fake news site. The alleged mosque named has also been proven to be fictitious.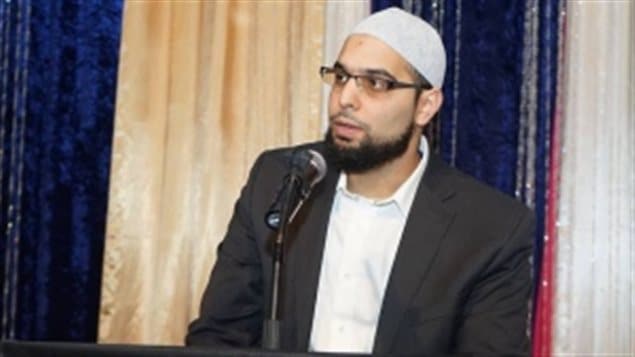 A U.S. satirical website called "America's Last Line of Defense" seems to be a very right wing site, although to further confuse things it also claims to be run by liberal trolls seeking to expose rascists.
It recently posted a story called "Hurricane Victims Storm And Occupy Texas Mosque Who Refused To Help Christians"
The site however used a photo of a Canadian imam who lives in Toronto, Ontario.
Ibrahim Hindy was in Saudi Arabia this week on a Hajj pilgrimage when he received news his photo appeared in a disturbing story on a U.S. website.
The story alleged religious discrimination by the muslim mosque against Christians in need.    Not only is the mosque fictitious, and the story fake, but Hindy himself has never been to Texas.
"The whole thing was kind of surreal," Hindy told CBC News. "I'm in the middle of a desert, just minding my own business, and somehow I get dragged into this thing out of nowhere."
Initially, Hindy thought it best to ignore the ridiculous claim, but then realized in the current climate of religious tension such a story could serve to further increase tensions, and possibly become a threat to him personally.
The website TheLastLineOfDefense.org, does have a rather clear, albeit not immediately evident disclaimer on their website.
"DISCLAIMER: America's Last Line of Defense is a satirical publication that may sometimes appear to be telling the truth. We assure you that's not the case. We present fiction as fact and our sources don't actually exist. Names that represent actual people and places are purely coincidental and all images should be considered altered and do not in any way depict reality.

In other words, if you believe this crap you're a real dumbass.
However, the story has been shared thousands of times and Hindy fears that those who are already prejudiced will likely not notice it's fake news adding that such stories only serve to increase tensions, fears and even hatred.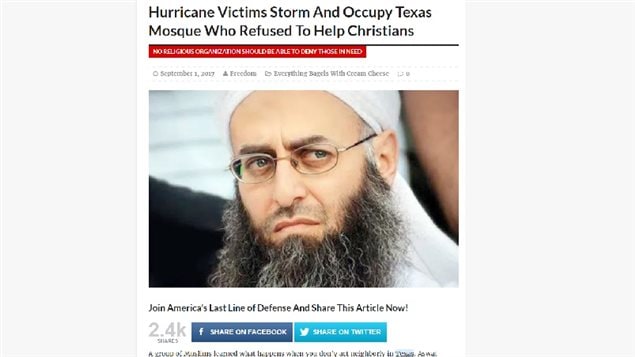 Quoted by the CBC he said, "it exploits their prejudice and so they'll click their links and they'll go to their websites and these people will make money off them — but in doing so, they're really sowing discord," he said. "This really shows you this industry of hatred and the way that it operates."
In reality, several mosques in the storm affected area opened their doors to shelter thousands of evacuees and contributed in other ways in the relief effort such as the through the Red Cross
Additional information-sources