Canada's free trade deal with the European Union will form the basis for the post-Brexit economic relationship between Canada and the United Kingdom, Prime Minister Justin Trudeau and his British counterpart Theresa May said Monday.
The two leaders also said that they are joining forces in their fight to get aerospace giant Boeing to drop its trade complaint against Montreal-based Bombardier, which also has a significant manufacturing operation in Northern Ireland.
May, who is on a one-day visit to Canada, told a news conference in Ottawa that she had already discussed the matter with U.S. President Donald Trump and intended to press him on it further this week when she meets him on the sidelines of the UN General Assembly in New York.
'Smooth transition'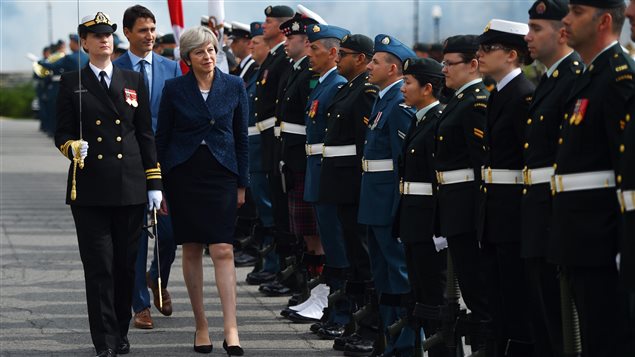 Speaking to reporters following their meeting on Parliament Hill, Trudeau and May said they agreed that the Comprehensive Economic and Trade Agreement (CETA) between the European Union and Canada, which comes into provisional effect on Sept. 21, will form the basis of the bilateral trading relationship after the U.K. leaves the EU.
"We believe it makes sense to take the trade agreements the U.K. is part of as part of the European Union with Canada and say that's the basis, at the point we leave, for a bilateral relationship between the U.K. and Canada," May said.
(click to listen to the joint press conference)
Listen
May said the U.K. has already discussed this with the EU.
CETA, which eliminates over 90 per cent of all barriers in trade between Canada and the European Union, provides "an excellent basis for ensuring a smooth transition" in the post-Brexit period, Trudeau said.
"After that, there will obviously be opportunities for us to look at particular details that could be improved upon for the specific needs and opportunities in the bilateral relationship between the U.K. and Canada," Trudeau said.
"But as a strong basis for a smooth transition, CETA is perfectly designed, and will be able to ensure, for investors, for companies and for workers and consumers, a smooth transition."
Warning to Boeing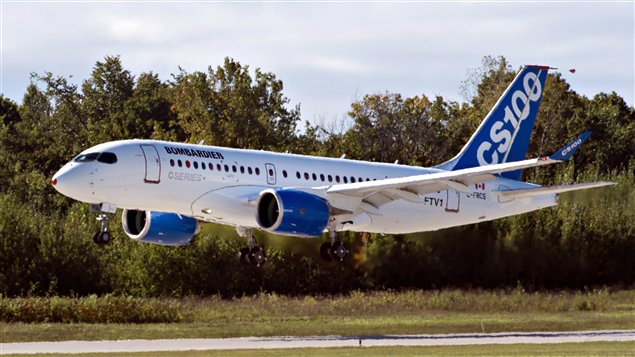 Trudeau also used the occasion to send his most clear and forceful warning to Boeing over its trade action against Bombardier.
The dispute centres around Bombardier's new C-Series passenger jets that now directly compete with both Boeing's best-selling 737 family of jets and the Airbus A320 family.
Industry insiders say the new Bombardier jet is the most viable threat Boeing and Airbus have faced in over 20 years.
Boeing alleges that Bombardier has received federal and provincial government subsidies that give it an unfair advantage.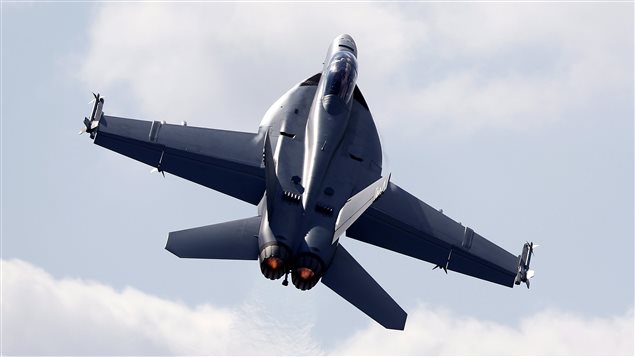 Boeing has asked the U.S. Commerce Department to investigate whether Bombardier is dumping planes into the U.S. market, drawing an angry reaction from Ottawa.
"The actions that Boeing has taken is very much in their narrow economic interest to harm a potential competitor and quite frankly is not in keeping with the kind of openness that we know benefits citizens in all countries around the world," Trudeau said. "We are going to work together and impress upon the American administration, including President Trump himself, how important it is to defend Canadian jobs."
Canada is considering the purchase of Boeing's Super Hornet fighter jets "as a significant new procurement" for its military among other options to replace its ageing CF-18 Hornets, Trudeau said.
"But we won't do business with a company that's busy trying to sue us and put our aerospace workers out of business," Trudeau said.