Almost half (48%) of the thousands interviewed say there are too many immigrants in their country.
An Ipsos survey of opinion in 25 countries around the world shows a high level of unease with migration, whether immigration, migrants or refugees.
The Ipsos Global @dvisor survey also finds that on average 39 per cent of citizens from 25 countries surveyed want to close borders to refugees entirely, while a slim majority of 51% disagree and 10% are not sure.
Sebastien Dallaire is vice-president of Public Affairs for IPSOS-Canada.
Listen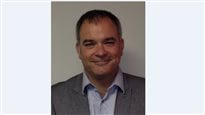 The survey involved almost 18.000 interviews in total with 500 to 1,000 people in each country
In the U.S. and Canada, the respondents were aged 18-64.
In the following countries the respondents were aged 16-64 in the following countries: Argentina, Australia, Belgium, Brazil, , France, Germany, Great Britain, Hungary, India, Italy, Japan, Mexico, Poland, Russia, Saudi Arabia, South Africa, South Korea, Spain, Sweden, Turkey, Serbia, Peru and New Zealand.
Dallaire said there was no distinction made between refugees, migrants, and immigrants as the terms are interpreted differently in different countries.
Thus using a single term to cover the issue, it seems that most feel that immigration has been increasing since IPSOS began its surveys in 2011, and  most also see it as having a negative affect upon their country.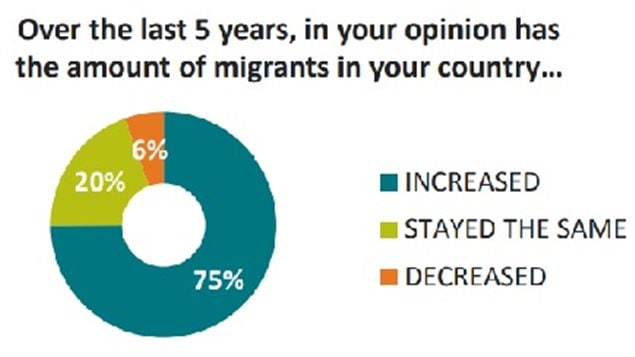 Not surprisingly, Turkey which has seen massive influxes of migrants,  tops the list of those responding to the question "there are too many immigrants in our country" with 83 per cent agreeing. Italy is next at 66 per cent.  In Belgium, 61 per cent agreed,  in the U.S. it was 48 per cent which was the average of all countries responses combined.Great Britain was at 45 per cent and  Canada is well down the list at 35 per cent agreeing that there were too many immigrants in the country.
However, it is also interesting to note that in Britain, Spain and the U.S. the numbers of people agreeing with that statement has declined the most since 2011.
Do immigrants make your country a more interesting place?
Only three in ten (31%) globally believe immigrants make their country a more interesting place to live.  The highest scores are all seen in largely English-speaking countries, including Britain (49%), New Zealand (49%), Australia (48%), Canada (48%), India (48%) and the United States (47%).
But, twice as many on average feel immigration has had a negative effect on their country (42%) as do those who responded it had been a positive effect (21%)
Saudi Arabia, India, Britain, Canada, and Australia are the most positive countries with about two in five saying
immigration has had a positive impact.
o Britain and the U.S. have seen the biggest increase in positive opinions since 2011. In Britain, 40% now say immigration
has had a positive impact, up from 19% in 2011. In the U.S., 35% say so, up from 18% in 2011.
o Hungary, Serbia, Turkey, Russia, Italy, Argentina, and Mexico are the least upbeat about immigration with 10% or fewer
saying it has had a positive impact.
The full report is available HERE- PDF