In the wake of last weekend's violent attack in Edmonton that saw five people, including a police officer injured, Prime Minister Justin Trudeau says the federal government has begun a review of its handling of refugee claims.
"We are looking into exactly what happened in this situation, Trudeau said in Ottawa Wednesday, the same day that Immigration, Refugees and Citizenship Minister Ahmed Hussen was announcing that relaxed rules for obtaining citizenship will take effect next Wednesday.
Abdulahi Hasan Sharif, a Somali refugee claimant, is accused of driving a van into four pedestrians and stabbing an Edmonton police officer Saturday night in Edmonton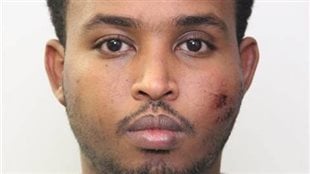 He is currently in police custody and has been charged with a number of crimes, including five counts of attempted murder.
According to Canadian Public Services Minister Ralph Goodale, Sharif crossed into Canada early in 2012.
Canadian officials have said Sharif went through the "regular process," entered at an official port of entry and was granted refugee status later that year.
"We're looking into the whole system and will reflect on whether we need to do things differently certainly in the future than the way they were done ion 2012," Trudeau said.
Speaking in Brampton, Ontario, Hussen said it is the the Immigration and Refugee Board–not the federal government–that makes decisions on whether or not to grant asylum.
Proposed changes to the path to citizenship rules include reducing the required duration of a physical presence in Canada to three out of five years, from four out of six years.
And a portion of time spent in Canada before obtaining permanent residence status will count toward residence requirements, providing credit to temporary workers and students.
Since an increase in processing fees from $100 to $530 in 2014-15, CBC News reports that there has been a decrease in applications for Canadian citizenship.
In the first nine months of 2016, applications dropped by almost 50 per cent–to 56,446 from 111,993 over the same period in 2015.
With files from CBC, Globe and Mail, RCI