Canada is stepping up its efforts to advance the role of women and girls in peacetime and to protect their human rights in fragile, conflict or post-conflict countries, said Foreign Affairs Minister Chrystia Freeland as she unveiled Ottawa's new action plan on women, peace and security Wednesday.
The five-year national action plan will support increased representation of women in peacekeeping operations, local and national governance, as well as support women's and girls' access to sexual and reproductive health services in emergency and conflict settings, Freeland said.
In practical terms it means that Canada wants to increase the number of female soldiers and police officers deployed on peacekeeping missions, wants to see more women participating in conflict resolution negotiations, as well as better training for peacekeepers on addressing and preventing gender-based violence in conflict and post conflict situations, the government said.
The new action plan is a logical continuation of the Liberal government's larger feminist foreign policy approach unveiled by Freeland in June.
'Solutions to hard and real security needs'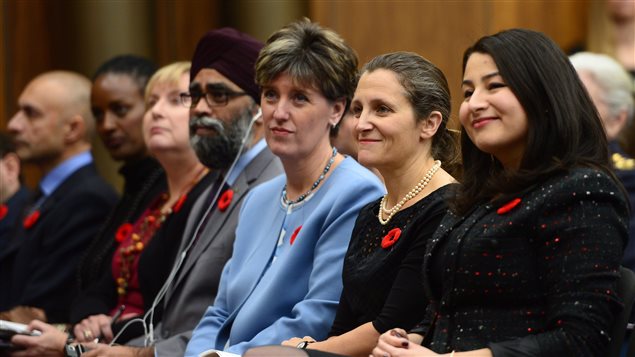 "Taking a feminist approach to peace and security is not mere 'political correctness' or 'virtue signalling' as some people have started to say," Freeland said. "This is a smart and practical set of solutions to hard and real security needs."
The international community needs to deal with serious problems of abuse and rape committed by security personnel and peacekeepers, rampant forced marriage and violence against women, Freeland said.
"Today's action plan will focus on preventing and responding to these acts and acts of sexual exploitation and abuse by peacekeepers, and other international personnel, including humanitarian and development staff," Freeland said. "There can be no impunity of these crimes, not for soldiers, not for civilians, not for those sent to keep the peace or provide assistance."
The plan earmarks $17.1 million for gender initiatives to encourage the participation of women and girls in efforts to prevent and resolve conflict.
The funding will support more than a dozen programs ranging from efforts to include women and victims of gender-based violence in transitional justice processes to providing small grants to women's organizations working locally and nationally to promote peace, security, pluralism and equality in Syria, Iraq, Tunisia, Libya, Yemen, Colombia, Sri Lanka and Afghanistan.
The release of the action plan comes ahead of a UN peacekeeping summit in Vancouver in mid-November, where the Liberal government is expected to make some kind of announcement regarding its pledge to deploy 600 Canadian soldiers and about 120 police officers on a UN peacekeeping mission.