It's hazy and bitter cold here in Montreal on this Jan. 2.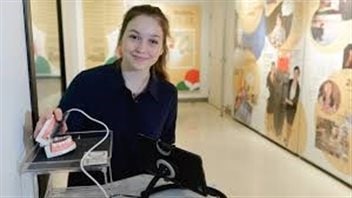 No matter.
Today, I get to partake in some warmth and sunshine: a conversation I recently had with Emma Mogus, someone I have never met in person but admire immensely
Emma, a second-year-physics student at McMaster University in Hamilton, Ontario, is 19 years old and gives me hope about humankind's future.
She keeps winning academic prizes, has invented a mouse that gives disabled people entry to computers and the Internet and, oh yeah, she and her sister, Julia, have an organization called Books with No Bounds that has supplied over 250,000 books, 150,000 packets of educational supplies and 100 computers and tablets to indigenous students around the world.
The beginning of a new year is a time for hope and optimism. I know few who possess those qualities more than Emma Mogus.
Here is our conversation.
Listen