Undoubtedly if you asked, people would like to work fewer hours, and have more time off.
In times past, people thought that by our present time a shorter work week was bound to happen. In spite even of relatively recent stories that people want shorter weeks and that it would actually be better for productivity (see links below), that now doesn't seem likely at all. The standard work week in North America and many other developed countries is still about 40 hours, with some working far more, partly because we're "connected" to work.
The country with one of the longest regular work week is S.Korea where a law was just passed to reduce the week from 68 hours to 52 hours. In Japan where workers regularly work more than scheduled, and often fail to take holidays they're entitled to, death from "overwork" is not uncommon they even have a word for it, "karoshi".
A new survey from Angus Reid shows almost half (47%) of Canadians would like to move towards a 30 hour work week. Interestingly those who think it's a bad idea (31%) have declined by about half from those responding in the 1950's and 60's.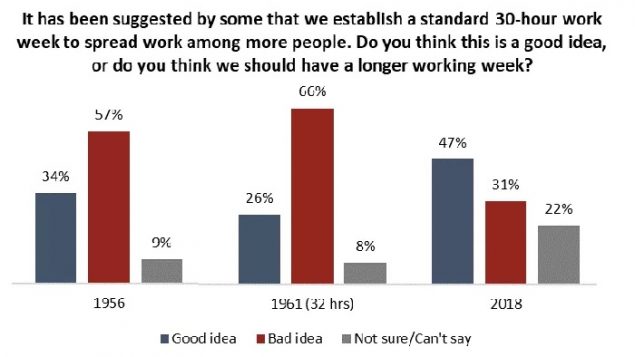 Also interesting, the number of Canadians who thought we would move toward a 30 hour week "in the next 20 years" was 48 per cent in 1969, 50 per cent in 1985, but in this most recent poll, only 13 percent.
Longer hours, fewer days.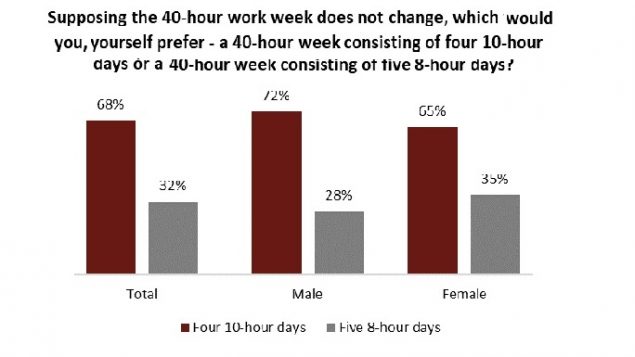 Because it seem unlikely that the 40 hour week will change soon, in spite of dreams about 100 years ago, a significant majority (68%) say they would rather work four 10-hour days, instead of five 8-hour days.
An added benefit of a shorter week, means that others would have to be hired to complete work, although a drawback would be smaller paychecks.
Additional information-sources