Even as Canada continues to seek a seat at the United Nations Security Council, the Liberal government hasn't made up its mind about where and when it plans to deploy Canadian peacekeepers, Prime Minister Justin Trudeau said Wednesday.
In August 2016, the Trudeau government pledged 600 troops, 150 police officers and $450 million over three years in support of UN peace operations as part of its much heralded re-engagement with the UN.
But despite the promise of deeper international engagement, Trudeau has remained elusive on his pledge to deploy Canadian peacekeepers to one of the many of the world's troubled spots even as Canada prepares to host the UN Peacekeeping Defence Ministerial forum in Vancouver in November.
"It is a commitment that we made to the Canadians and to the world that we are serious about re-engaging with United Nations peace operations," Trudeau told reporters at a press conference in St. John's, Newfoundland.
"But as Canadians well know and as Canadians expect, any time a government decides to send the brave women and men of Canadian Forces into a foreign theatre, into an operation, we need to make sure that we're doing it right, that we're doing it in a thoughtful way and that it's the right mission."
Listen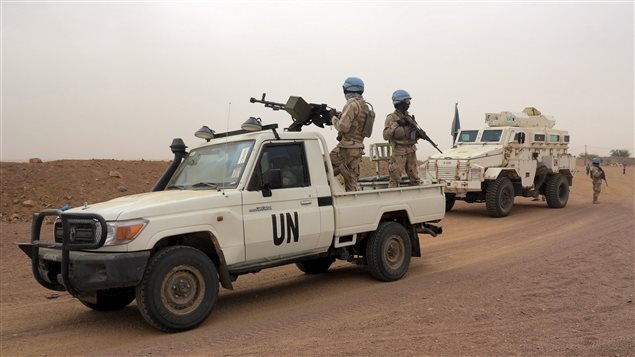 Trudeau would not say whether a decision to deploy Canadian peacekeepers will be made in time for the ministerial forum in Vancouver on Nov. Nov. 14 and 15.
The summit is expected to seek pledges of troops for UN peace operations.
Some 500 delegates from 70 countries are expected to attend the event, according to Canadian defence officials.
Trudeau said he "was exceptionally proud" of Canadian soldiers serving in Latvia, where Ottawa leads one of the four NATO battle groups deployed to the Baltic countries and Poland in the aftermath of Russia's annexation of Crimea and its support for pro-Russian rebels in eastern Ukraine, as well as the Canadian special forces troops serving in Northern Iraq.
"We can be extremely proud of the roles and responsibilities that Canada has taken on and in regards to peacekeeping we will continue to reflect on the best way to do it," Trudeau said.