For years, a variety of medical authorities have questioned the claimed benefits of sports and energy drinks and suggested moderation or replacement with water.
This week the Canadian Paediatric Society issued a clear statement saying sports drinks and energy drinks are not recommended for young children and teens under age 18.
The  CPS statement on Tuesday said sports drinks contain high amounts of sugar contributing to obesity and to tooth decay in children. These drinks also contain electrolytes (salt) and are often marketed by sports stars and elite athletes, something children and teens pick up on and are led to believe it will help their sports performance.
The CPS notes that the vast majority of children even in organized sports almost never approach the level of activity where a sports drink would provide any type of benefit.
Dr. Catherine Pound, the statement's co-author and a pediatrician at the Children's Hospital of Eastern Ontario said, "There's really no reason for kids to drink sports drinks" adding that water, in addition to being sugar free, hydrates as well or better.
She added that with the growing concern over issues with obesity in children, consuming these sugary drinks can contribute to the problems.
CBC NEWS REPORT

Sports drinks and Energy Drinks: different categories, but both with concerns
Caffeinated energy drinks (CED) are in a somewhat different category but are also not recommended by the CPS.
There have been several reports of young children showing up in clinics and emergency rooms with abnormal heart rhythms, high blood pressure, and worse after consuming energy drinks. The paediatricians note that children's smaller bodies don't have the same tolerance to caffeine that adults do.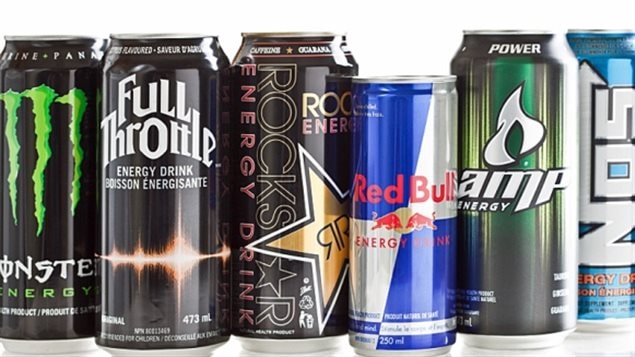 An oft-cited case is that of a teen in South Carolina with no previous heart condition but who died after drinking a sports drink, a large soft drink and a latte within a two hour span.
In Canada where caffeine amounts in energy drinks are regulated, an energy drink generally has about twice as much caffeine as an equivalent-sized cola soft drink and approximately the same caffeine as an equivalent-sized cup of instant coffee.
The CPS also said that caffeine levels in sports drinks in other countries may vary greatly from Canadian levels noting that, "some energy drinks in the USA containing as much as 344 mg of caffeine per 473-mL can [40], or more than seven times the amount of caffeine found in the same quantity of Coca-Cola [43]. It is important for paediatricians to be aware that regulations differ in neighbouring countries and that teenagers can purchase highly concentrated beverages outside of Canada".
The Society would like to see the legislation modified to take into account these new drinks on the market, and their appeal to children.
Additional information- sources