Listen
The most Arctic-minded Canadian prime minister is what Stephen Harper would like to be considered. The prime minister is on his 8th annual tour of Canada's northern regions.
"Use it or lose it" used to be the phrase describing the government's heavy emphasis on Arctic sovereignty before 2009. While sovereignty is still a pillar of its northern strategy, the emphasis has changed to promoting economic and social development.
A grant of $5.6 million was announced for a mining innovation centre to be built in the northern territory of Yukon. It's hoped that this kind of initiative will help people get jobs and spur development by providing skilled workers to industry.
Opposing views on development
Not everyone agrees that economic development is the best way to improve the lives of northerners who are plagued with a high suicide rate, poor housing and health services.
"There are two different development models at play," says P.Whitney Lackenbauer, associate professor of history at the University of Waterloo in Ontario. "The one that the Harper government, I think, is acting upon is the idea that if you have resource development in particular, if you have economic development there's going to be a trickle-down effect that's going to eventually allay a lot of those (social) concerns and improve those indicators."
Opposition critics argue the government needs to improve health and social conditions in the north before meaningful development can take place.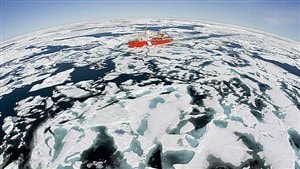 Projects scaled back
Several projects that were previously announced to help protect Canada's sovereignty in the Arctic have been scaled back due to budget cuts. Rather than the promised three, heavy troop-carrying icebreakers Canada will get six to eight lighter offshore patrol ships and they will only come into service in five years. The government has also scaled back its plans for a deep-water military port at Nanisivik on Baffin Island.
"Canada badly lags"
Munk-Gordon Arctic Security Program experts say Canada "badly lags" other countries in Arctic infrastructure. Other critics note Canada has not mapped norther waters as other countries have. It does not have a major deep-water port, lacks search and rescue capability and the ability to respond to a major crisis. Lackenbauer notes Canada's lack of action on climate change which affects the Arctic regions more than others.
However, "We've seen a lot of investment in science," says Lackenbauer. "International Polar Year, Canada was the world leader in terms of the money that we committed to scientists to participate in 2007-2008. And (there's) obviously a lot of money going into the high Arctic research station, a world class research facility being built in Cambridge Bay, Nunavut."
The Canadian government is taking a much broader approach to the north than it has in the past, notes Lackenbauer and he says the prime minister's yearly tour speaks to his ongoing commitment to the Arctic.