It was on February 20th  1959, a day that became known as "black Friday", that a sudden and unexpected announcement from the nation's capital shocked the many thousands of workers at an aerospace plant near Toronto, Ontario.
Canada's then Prime Minister John Diefenbaker, rose in Parliament and announced the sudden halt to the CF-105 Avro Arrow jet fighter and Orenda- Iroquois engine programmes, effective immediately..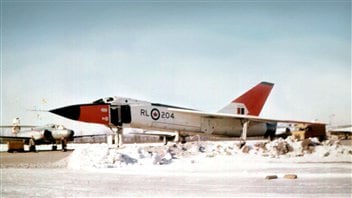 For years the A.V Roe plant had been working to create what was arguably the fastest and most advanced fighter-interceptor jet in the world with capabilities that even against today's fighter jets would be impressive.. It would for example, still fly faster and farther than the most recent (and controversial) F-35.
A few CF-105's had been built and had already shown astounding potential. That potential was expected to increase greatly with the almost completed and better performing Canadian designed Iroquois engine.
Test pilots loved the plane, and chief test pilot Jan Zurakowski said it was the best plane he'd ever flown.
What was further shocking is that the planes already built and flying were ordered cut up into scrap. RL-206 has just been completed and was slated to try for the world speed and altitude records. In what is still considered a brutal, unnecessary, highly unusual, controversial and mysterious move, all planes, all jigs, all special tools, etc were ordered destroyed.
To this day, conspiracy theories about American involvement to end the Canadian project abound. They concern allegations that American aerospace companies did not want competition for sales from a much superior fighter from Canada, and that they were also eager to hire away the brilliant engineers who created the Arrow.
It is true that the cancellation of the CF-105 caused the demise of the A.V Roe company and that many of the Canadian engineers were in fact hired by US aerospace firms and by NASA. Many features on subsequent US fighters can be traced to the Arrow, while former A,V.Roe employees also helped develop the US space programme.
The cancellation also effectively ended Canada's likelihood of becoming a major and leading player in the aerospace industry.
In 1996 a four-hour miniseries about the Arrow debacle was created for the Canadian Broadcasting Corporation and starring Dan Aykroyd. It is listed as having the highest viewership ever for a CBC programme.
CBC (via YouTube)  ( if video does not show, internet search "CBC's The Arrow" youtube