Listen
Doctors organized protests in 17 Canadians cities to denounce the government's denial of free health care for many refugee claimants.  In the past, people coming into Canada and claiming refugee status were provided basic, free health care for the one to two years it would take to process their claim. In some dire cases, some people were provided physiotherapy, others vision care.
Everything changed in June 2012 when the Canadian government decided that people from what it deemed to be "safe countries" would no longer be entitled to this free health care. There are 37 such designated countries and refugee claimants from them lost all health coverage for urgent and essential care, except where there is a danger to Canadians.  For example, someone with a cough from pneumonia would not get free treatment, but someone with tuberculosis would, to prevent the disease from spreading.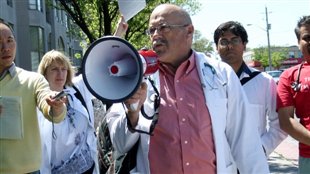 Forcing them into emergency…irresponsible'
Refugee claimants, who don't get basic care, sometimes find their health problems get much worse and end up in hospital. "Forcing them into the emergency department where the care is way more expensive and less than ideal…is both humanitarianly, if that's a word, and fiscally and economically irresponsible," says Dr. Paul Caulford. He is the founding medical director of a volunteer clinic that treats refugee claimants for free in the Toronto suburb of Scarborough.
Problems worsen, become more expensive to treat
He gives the example of a young man whose high blood pressure was not treated because he had no basic health coverage and could not afford a $34 visit to the doctor. His condition worsened to the point where he was rushed to hospital where it took three days to stabilize him. The bill was $10,000 which the hospital sent to the community clinic. Doctors, nurses, nurse practitioners volunteer at the clinic. They are not paid. What money is raised for the clinic is not even enough to provide urgent treatment for refugee claimants, says Caulford and there is no way it can cover hospital bills, nor should those who volunteer there have to pay the bills.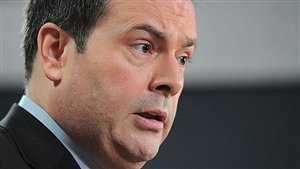 'What's bogus about a mother and her baby?'
In 2012, the immigration minister made comments about cracking down on "bogus refugee claimants" and later, that claimants should not have access to "gold-plated health care" that Canadians do not have. Caulford bristles at this and asks "what's bogus about a mother and her baby?"
Immigrant and refugee mothers have seven times the risk of maternal or infant mortality, he notes, yet they cannot get pre-natal care which could reduce the necessity for a caesarian section delivery. "Gold-plated health care? We see people with no health care," says Caulford.
'Canadians believe in fair medical treatment'
Because health care coverage varies depending on a refugee claimant's status, doctors have trouble figuring out who is covered and who isn't, and they don't think they should have to be the arbiters of what is immigration policy. Nor do they think it's humane to deny basic health care to them.
Two previous protests by doctors have raised awareness about the problem and they hope this one will too. "We're hoping to bring this message right into the living rooms of Canadians, who we believe, believe in fair medical treatment for refugee claimants when they are ill and making a claim in Canada," says Caulford.