Academics from across Canada are urging the federal government to stop lagging behind other developed nations and take the lead on mitigating climate change. Fifty-five researchers and professors of from different fields have joined to form Sustainable Canada Dialogues to work on issues of sustainability.
'There is a lot we can do'
"We are concerned by the lack of response by Canada to climate change," says Brent Sinclair, an associate professor of biology at Western University. "Our goal is to… come up with achievable, usable solutions that Canadians can consider when they're thinking about responses to climate change."
Listen
The scientists are concerned that people are overwhelmed by the problem. "People's responses to climate change can essentially be 'this is overwhelming,' throwing up their hands and saying 'there's nothing we can do,'" says Sinclair. "But we absolutely disagree because there is a lot we can do…and this is a critical time for making decisions."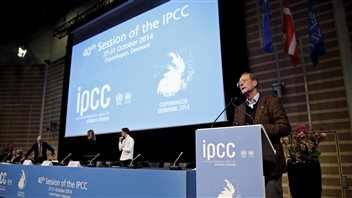 Make climate an election issue, urge scientists
There will be a federal election in Canada in 2015 and Sinclair says all parties can use information from the Intergovernmental Panel on Climate Change (IPCC) to formulate their positions on climate change. The IPCC is meeting now in Copenhagen to approve the synthesis of its Fifth Assessment Report.  This will summarize the work of almost a thousand scientists and put it into digestible form for politicians and policy makers.
Sinclair and other researchers applaud some of the work done by lower levels of government in Canada to mitigate climate change. Notably, the province of Ontario is phasing out coal-fired electricity plants and the western city of Vancouver is promising to be the greenest city in the world by the year 2020.
Canada needs 'co-ordinated action'
But the IPCC and these Canadian academics say the efforts need to be coordinated by the federal government. "What we're lacking is overall federal leadership that co-ordinates these events," says Sinclair. "We think it is the role of the federal government to bring climate change mitigation into the mainstream and to co-ordinate these actions to make sure that we're all pulling together.
'Extremely urgent'
"The current government should stop digging in its heels because the information is available, mitigation is not impossible. It needn't be expensive but the longer we leave it the more expensive it becomes," he says.
"(This) was urgent about ten years ago. It's now extremely urgent."