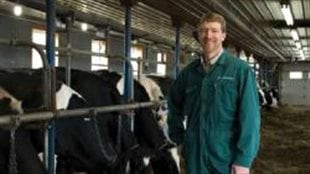 Thanks to a Canadian veterinarian, small hold cattle farmers in Kenya have seen their milk production double and even triple.
Dr John VanLeeuwen is a professor of Epidemiology and Ruminant Health Management at the Atlantic Veterinary College (AVC) in Charlottetown, part of the University of Prince Edward Island (UPEI)
He's made 17 trips to the African nation over the past several years to help  a co-op of between five and six thousand farmers who own one to five acres and between one and three cows. This is in a mountainous area on the slopes of Mount Kenya.
On each trip, VanLeeuwen and a couple of students have advised the local farmers on living conditions for the cattle, while also providing veterinary care.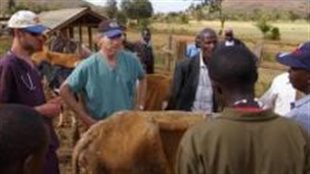 The Canadians have shown the farmers how to reduce the number of udder infections and improve parasite control, all leading to more milk production. The farmers are now much more knowledgeable on health management of their dairy cattle
In one case a farmer near Meru, Kenya was letting the cattle roam free to graze. However, in the dry season this meant there was little nutrition in the dried out weeds.
VanLeeuwen then advised Isaac Kaiyongi on the building of a shed to shield his cows from both the hot sun and the rain. He also suggested planting grasses such as Napier grass and sweet potato vines for the cattle to graze on which further helped stabilize the soil which had been subject to erosion in the area due to its former use in coffee growing.
The farmer says whereas he used to get a total of 17 litres of milk in total from this three cows, he now gets 17 litres from each cow. The added income has enabled him to send his three children to school, one of them to college.
In addition to his work as a professor at the AVC, VanLeeuwen is president of a group called Farmers Helping Farmers in November 2014 was elected as Chair of the board of Veterinarians without Borders -Canada (VWB).
Dr. VanLeeuwen. says "Today, Veterinarians without Borders-Canada has become recognized and respected in Canada and internationally, and is delivering on its promise to promote sustainable and integrated animal, human and ecosystem health in parts of the world where it is needed most".
He noted that thanks to the efforts supported by UPEI, FHF and VWB-Canada, he has seen a big change in communities in terms of health of people and a gain in prosperity due to the improvement of the dairy farms.  In one community, where there were no banks before, there are now seven.
Qouted by CBC news he said, "Banks only go where there's money, so you know that now there's a fair amount of money in this community.  And it's a sustainable community."
On the 2015 trip, VanLeeuwen's veterinary team checked more than 150 animals from more than 120 farms over 14 working days
with files from CBC, AVC