In the 1970's Canada set up the world's first geostationary (geosynchronous) non-military domestic communications satellites.
On November 9, 1972, Anik-A-I was sent into orbit and on this date April 20, 1973, the 600kg Anik-A-II was sent aloft to join it. Anik A-III being sent aloft  in 1975.
The first similar US system, was sent up in 1974, for Western Union using the same Hughes-built HS-333 platform and was called Westar-1
Geostationary means the satellite orbit  follows the rotation of the earth so it appears always in the same spot over the earth. The Anik satellites were designed to provide greater and improved coverage of Canadian TV signals especially to the far north, where Canadian broadcasts could be received for the first time. The satellites however also provided additional coverage and capacity  in radio and telephone coverage for all of Canada, the second largest country in the world.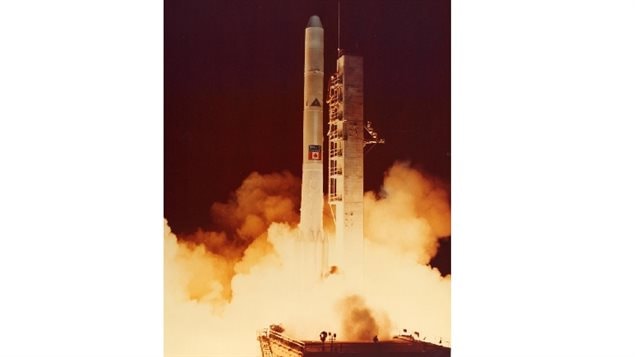 Anik II was designed to guarantee continuous service and to act as a back up if need be.
As these were the first of many which would be needed over the following decades, Anik A III was sent up to cover any failures of the A-series and any future failures, especially during launch. As such it was deemed cost effective to build three at the same time.
The Anik A-series could each handle 7000 telephone circuits or 12 colour television channels.
The new "see –through" antenna was covered by a fine gold mesh designed to reduce a "tipping" effect from solar pressure.  The antenna section remained stationary, ie, pointed at Canada, while the solar panel array body spun at 100 rpm to provide both a gyroscopic stability and thermal control. The over 20,000 solar cells, each about 2cm square, produced some 250-300 watts of direct current (DC) power.
The antenna was also a first in that it's beam was "shaped" to cover Canada east-to-west, and from the Canada-US border, to the Arctic.
The Anik-A series were designed to last seven years, but each served nearly 10 years before being retired and replaced with newer models.
The Anik series has continued with models B- throu G, with Anik G1 being launched in 2013.