An Alberta man has been convicted of agreeing to a "marriage of convenience: with a foreign woman in exchange for  a fee.
It's the first such case successfully prosecuted in the western province.
Another case was prosecuted in 2004 in the province but was overturned on appeal.
In this case, the woman entered Canada in June 2007 on a work permit. She married in 2010  but in 2013 was removed from the country. While the CBSA didn't reveal the woman's identity, the Immigration and Refugee Board said Philippines native Venus Tandog Platts, a woman in her late 30s, received an exclusion order requiring her to leave Canada that year.
Gilbert Platts, was charged in 2014, and was found guilty of misrepresentation under the Immigration and Refugee Protection Act in Edmonton provincial court on June 16.  Platts aged 60, accepted a $5000 payment to marry the woman in order to enable her to stay in the country as his spouse.
Although he could have faced fines up to $100,000 or up to five years in prison, Platts was sentenced to six months incarceration to be served in the community.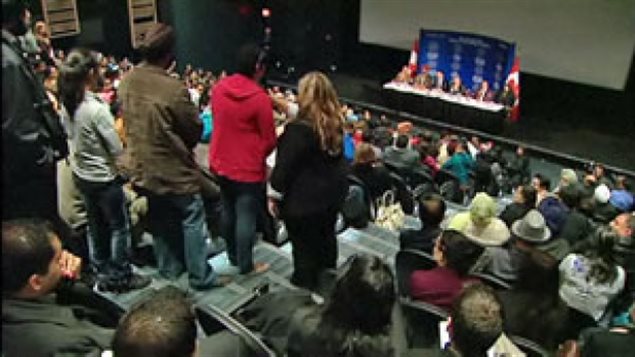 The Canada Border Services agency, began investigation after receiving a tip. The CBSA believes marriage fraud is a growing problem but is difficult to prove. As of April 2013, the agency had laid charges in ten cases, but there have been only six convictions.
In an effort to combat such immigration fraud, the federal government introduced new rules in October 2012 requiring couples to live together for two years before getting permanent resident status. Sponsors also have to pay all costs incurred by the spouse for three years even if the relationship doesn't last.
2015 government report on protection of immigrant women includes marriages of convenience and forced marriages
In a related issue, the CBSA from May 2013 stated that "marriages of convenience" in India "have become a threat to Canada's immigration system".
The report from the Migration Intelligence Section, Intelligence Operations and Analysis Division-Enforcement and Intelligence Operations Directorate of the  CBSA, the report also noted that "The Republic of India is a high-risk country for marriages of convenience. It has been estimated that as much as 36% of the spousal caseload may be fraudulent"
The report identifies China, India, Pakistan, Sri Lanka, Vietnam, Cambodia, Nigeria, Ghana, Ethiopia, Guyana and Haiti as the "high risk" countries involving Canadian permanent residents sponsoring bogus spouses under the immigration system's family-class section, according to Border Services.