North Korea fired four shells into South Korea, on Thursday, according to Seoul, in an apparent protest against propaganda broadcasts. The South fired back 29 artillery shells, and Pyongyang accused the South of inventing a pretext to fire into the North.
Listen
Professor Christian Leuprecht, of the Royal Military College in Kingston, Ontario says the challenge for South Korea, is to know how to respond, given that no one really knows what's going on in the North. He says the current sabre-rattling "could be that this is driven top-down from the political elite, it could also be that it is driven by some military commanders who are fearing for their heads because we know that since 2012, since the new leader came into office, some 700 senior officials in North Korea have been executed, and so there may be some sense of outbidding here, that the North Korean military leadership might feel that if it doesn't try to outbid the South Koreans at every stance, that some General's heads might end up rolling."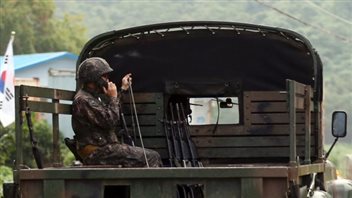 The Chinese, still the major economic partner to the North, has called for restraint on both sides, but they have reduced clout since the new leader came to power. Christian Leuprecht points out the refusal by Kim Jong-un to accept the invitation to visit Beijing, and the no-show at the May celebration in Mosow.  Professor Leuprecht says "this is a North Korea that is looking to assert and achieve its sovereignty and its independence also, from Chinese tutelage."
Between China's fear of any conflict on the peninsula, ultimately destabilizing its goals, and wreaking havoc in the border region, and the considerable American military presence in South Korea, it is hoped that steady hands will prevail.
South Korean is one of the top sources of immigrants to Canada and the country is also one of Canada's major trading partners.