Small, narrowly-focussed debates between candidates seeking election to lead Canada "may be detrimental to democracy," says David Nayman, a professor of journalism at Ryerson University in Toronto. These have been a feature of the current election campaign, leading up to a vote for a new Canadian government on October 19th.
Canada used to have at least two debates, one in English and one in French, during election campaigns and they were broadcast live on several public and private television networks. These were viewed by 13 or 14 million people and featured a broad choice of subjects.
Prime minister refused to participate
But in the current election campaign, the out-going prime minister, Stephen Harper refused to participate in this type of event, instead opting for debates focussed on a particular topic and carried by non-traditional organizations like the Globe and Mail newspaper, a magazine/telecom partnership, and by a charitable foundation.
"Canadian politics have been re-shaped in the last ten years under Stephen Harper," says Nayman. In the past, he says, those vying to lead the country sought to reach the widest audience possible.
Listen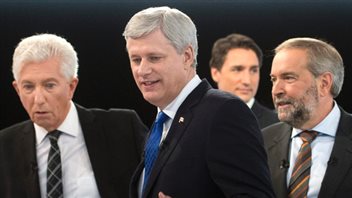 Prime minister 'determined how debates would unfold'
"This prime minister seems to appeal to specific groups—to largely older voters, immigrant voters, people with strong business interests—and  so the politics of this country have changed quite dramatically into more niche and boutique politics…so arguably the debates have become boutique and niche debates."
The prime minister "clearly determined how the debates would unfold," says Nayman and the other party leaders went along with it by not refusing to participate.
Public had difficulty accessing debates
The result was that each debate was watched by far smaller audiences, and it was not always clear to the public where and when they could access the debates since some were carried on a specialty channel or online. Nayman asks why Canadians "should have to rack their brains" to find them.
"The point of these debates is to give Canadians a chance to weigh all of the leaders on as many issues as possible and perhaps it will influence them. If they can't watch these debates or the debates happen in formats that may be unfamiliar or don't really bring out the strongest points in each leader then again, it affects voters' choices and is detrimental to democracy in general."