Are electric vehicles the way of the future in reducing greenhouse gases? A new group promoting the use of electric vehicles (EV) thinks so. The non-profit advocacy group "Plug'n Drive" plans a rally at the Ontario provincial parliament buildings today.
They want to promote their message that EV's can help reduce greenhouse gas.
A variety of EV's in several price ranges will gather this morning at the provincial parliament, known as "Queen's Park", to provide test drives and information for provincial politicians, public servants and the general public.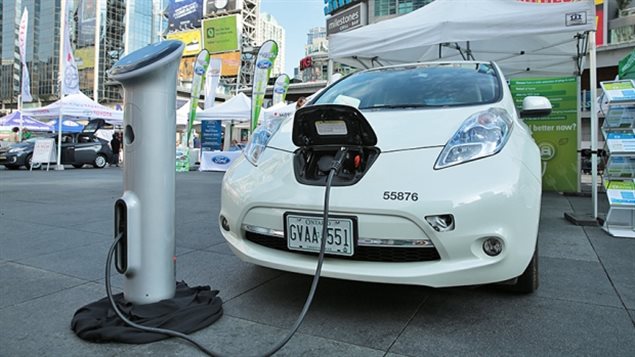 Ontario is Canada's most populous province and the provincial government released the Ontario Climate Change Discussion Paper in February of this year in which it indicated a desire to reduce emmissions by 37 percent below 1990 levels, and achieve that goal by 2030.
In response the advocacy group published its own report called Electric Vehicles: Reducing Ontario's Greenhouse Gas Emissions.
The group is making five policy recommendations
1-Build on and expand Plug'n Drive's public education and awareness programs to help more drivers make the switch, including establishing a Centre for Innovation in Electrified Transportation;
2- Expand public charging infrastructure, especially Level 3 "Quick Charge" stations on the 400 series highways, to allow for inter-city travel;
3- Seek an EV mandate for Ontario that would encourage automakers to get involved in building electric vehicles in Ontario;
4- Create a low night-time or off-peak electricity price to encourage drivers to charge their electric vehicles at night and take advantage of Ontario's low emitting surplus electricity;
5- Electrify school buses. With 18,000 diesel school buses in Ontario that only operate for a few hours each day and spend significant time idling, the electrification of school buses would have enormous environmental and health impacts as well as fuel savings.
The group in the past has also recommended that a number of quick-charging stations be set up along the province's 400 series major intercity highways to enable EV's to confidently travele longer distances.
In the neighbouring province of Quebec, a plan was announced this week to add another 106 charging stations in and around the major city of Montreal.
There will be 50 charging stations for 240 volts, each with two plugs. These will be along the street and will cost $1 per hour for charging (plus parking costs if there are any).
There will also be six 400-volt fast-charging stations. These will cost $10 per hour to charge, although about 10 minutes of charging works out to enough to travel 50 kilometres.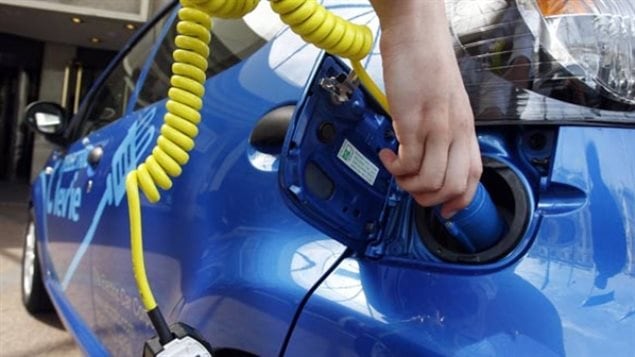 Montreal had two charging stations in downtown for past year as part of a pilot project.  Mayor Denis Coderre said they were used an average of 60 to 75 times per month.
The 106 new charging stations are in addition to another 80 stations around the Island of Montreal. Those 80 stations, scheduled to be installed by the end of 2016, are not street side but are located in places like parking lots.
The Quebec government has said it expects more than 100,000 electric and hybrid gas-electric cars to hit the roads in the next five years.