A government rule about newly-arrived, sponsored spouses is bad for women and makes it harder for newcomer women to leave abusive relationships, says the Canadian Council for Refugees, an umbrella organization representing advocacy groups across the country.
The Conditional Permanent Residence rule applies to someone who is sponsored to come to Canada by a spouse. If the two have not already been together for two years or they have no children, the newcomer must stay with the spouse for two years after they arrive. If they do not, they lose their permanent residence status and have to leave the country. The rule was passed three years ago in an effort to stop marriages of convenience, designed to sidestep immigration law.
Rule 'traps people'
"The main problem is that it (the rule) traps people in a relationship," says Janet Dench, executive director of the Canadian Council for Refugees.
Listen
The rule provides an exception in the case of abuse or neglect but advocates have found it is difficult to apply, forcing some women to stay in abusive relationships. "The bad news we already feared—and we just did some consultation with organizations across Canada and that confirms our fears were founded—is that having that exception is not enough to protect women, in particular women who are the victims of spousal abuse," she says.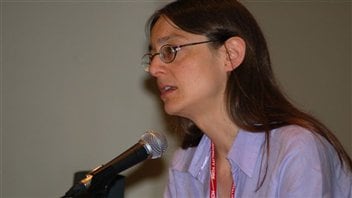 Many obstacles to obtaining an exception
The first problem is that many people and organizations are unaware of the exception. It takes time to get an appointment with an immigration to apply for the exception. An abused newcomer many have left home without documents. Language can be a problem and the process can be difficult without access to a front-line worker or a lawyer. Newcomers may be isolated or live in regions without access to this kind of support.
Process is doubly stressful, say advocates
"It is very stressful for the people who are already going through the stress of having been in an abusive relationship and then also waiting months to know 'am I going to have to leave Canada or not.' That of course is very stressful," says Dench.
In addition to trapping people in abusive relationships, rule takes up a lot of the resources of advocacy groups and lawyers, she adds.
Advocates urge Liberal members of Parliament to live up to their party's campaign promise to scrap Conditional Permanent Residence rules after they are sworn in on November 4, 2015.