An outbreak of whooping cough in the western province of Manitoba and her own baby's illness have made one mother furious with the anti-vaccine movement. All Canadian children have access to free vaccinations to protect them against about a dozen illnesses like measles, chicken pox, polio and mumps. But some parents mistakenly believe the vaccines are not safe and choose to not immunize their children.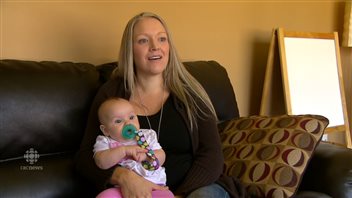 Baby hospitalized with whooping cough
Government statistics suggest 77 per cent of Canadian two-year-olds are vaccinated for whooping cough, also called pertussis. But herd immunity is only achieved when 92 to 94 per cent are vaccinated, according to the United Nations.
Naomi Murray was once a vaccine skeptic but her husband insisted their baby, Phoenix be vaccinated. Phoenix was in the small percentile of children who did not get immunity right away, says Murray. She got whooping cough, was hospitalized for five days and is still not completely recovered from this highly infectious, potentially fatal respiratory infection.
'Your choice…almost killed my baby'
Murray thinks her daughter got the disease from an unvaccinated family friend and is furious. "Your choice not to vaccinate affects me and it almost killed my baby," says Murray, adding she just doesn't understand why people would opt out of immunization for their children.
This outbreak of whooping cough began in August and so far about 40 cases have been reported, four times the normal number. There have been sporadic outbreaks of measles in the past year, also attributed some parents failure to vaccinate their children.
Public health officials continue their efforts to explain to parents that vaccines are scientifically tested and are safe for healthy children with very few exceptions. Some scientists have also conducted studies to try to understand why some parents still don't believe it.