The public broadcaster, CBC, is reporting that Canada's plan to bring in 25,000 Syrian refugees before the end of 2015 will be limited to women, children and families. CBC quotes sources as saying unaccompanied men will not be part of the program in response to security concerns.
"I was very disappointed," said Sean Rehaag, associate professor at York University's law school upon hearing the news. Rehaag says the government should be congratulated on this effort to resettle refugees quickly, but if it is indeed going to exclude unaccompanied men, that would be extremely troubling for two reasons.
Listen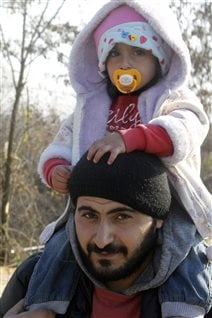 'It's discriminatory'
"Quite simply, it's discriminatory. It discriminates against men. It discriminates against people based on their family status. And international refugee law, international human rights law and Canadian constitutional law all prohibit this kind of discrimination. That's problematic." he says.
Also problematic is the message it sends, he argues. "The message sent by this policy is that young, single, Muslim men are dangerous and that they're not welcome in Canada. And I think that is extremely, extremely troubling."
Refugee groups most vulnerable or a security threat?
If Canada were choosing to resettle women, children and families because they are most vulnerable, Rehaag says that might be reasonable. He notes Canada has a history of helping particularly vulnerable groups. But he notes that this was an argument made last year by the previous Conservative government when it decided to favour the resettlement of Syrians who were of the Christian faith.
Government to clarify policy
The opposition Liberal critic at the time, John McCallum, said that policy was discriminatory. McCallum is now the immigration minister and Rehaag hopes he is not making the same kind of 'discriminatory' policy decision.
CBC is also reporting about 900 refugees will enter Canada each day. They may arrive in one location but will be able to disperse throughout Canada in about a month. They will not be housed in tents, but in army facilities, vacant hospitals and hotels.
The government has announced it will provide details on its resettlement program tomorrow, November 24, 2015.