Interim Conservative leader Rona Ambrose is calling for an urgent meeting with Prime Minister Justin Trudeau, "to discuss the rapidly deteriorating situation" as oil prices and the Canadian dollar continue their tailspin dive.
In a statement released Monday, Ambrose, leader of Official Opposition in Parliament, said she would press for three key economic commitments.
"First, the Prime Minister needs to commit to a meaningful limit on the amount of additional debt he will put on Canadians, not simply vague commitments on debt-to-GDP ratio," Ambrose said.
"Second, the government must commit to signing and ratifying the Trans-Pacific Partnership. And third, to help Canadian families deal with the increased cost of living associated with a weakening Canadian dollar, the government must reverse its decision to cancel income splitting for families."
With markets tumbling, the oil price remaining depressed and the weakening loonie, the time is now for the Liberal government to demonstrate leadership, Ambrose said.
"The government has been in office long enough to have a clear plan to deal with the current economic situation, but the sense of urgency from the Trudeau Liberals has been completely absent," she said.
In an open letter to Trudeau, Ambrose said she's concerned that Trudeau seems to have disavowed his plan to run "modest" deficits of $10 billion over the next three years.
"Your government has taken almost no time to turn a surplus (as indicated by the Parliamentary Budget Officer) into a deficit," she wrote. "In addition, the challenge of low commodity prices has devastated the energy sector in Alberta and is impacting the nation as a whole. The Conservative Party believes Canadian families and businesses deserve to see a plan to address these issues."
Ambrose announced that she's leaving on a national tour this week to "highlight Conservative priorities" before the return of Parliament. She addressed the Canadian Club in Toronto on Monday, and was scheduled to visit business organizations in Manitoba and British Columbia.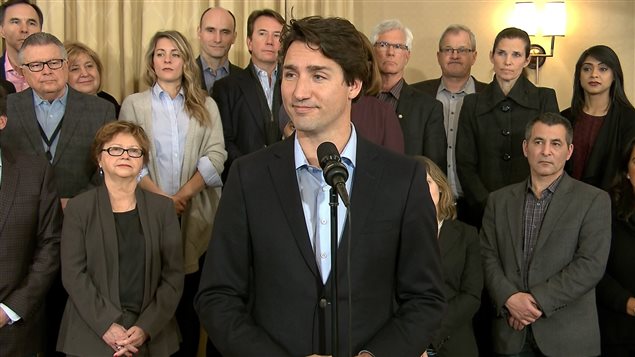 Trudeau told reporters Monday that he would be willing to meet with Ambrose to discuss the economy and any other concerns she might have.
"I am very proud of the pre-budget consultations we've put forward already, a record number, close to 80,000 Canadians, have engaged in the budgetary consultation process," the prime minister said in St. Andrews, New Brunswick, where Liberal ministers are holding a cabinet retreat.
"We continue to listen to Canadians, listen to concerned parliamentarians with solutions and concerns."
With files from CBC News.