The Arctic Council has been meeting this week in Stockholm, and one of the issues  under discussion is the ues of "heavy fuel oil" (HFO) by ships plying Arctic waters.
As the U.S is the current chair of the Arctic Council, a group of representatives from 15 international environmental groups has sent a letter addressed to David Balton of the U.S State Department.
Quoted in the Maritime Executive website, Sue Libenson, Senior Arctic Program Officer for Pacific Environment says, "The Arctic Council identified a spill of heavy fuel oil as the top threat posed by shipping to the Arctic environment in its 2009 comprehensive Arctic Marine Shipping Assessment. (..) However, the Arctic Council has taken no action to advise the shipping industry to curtail its use and switch to cleaner fuels".
Cleanup "impracticable, impossible, insurmountable"
The letter states several concerns including that in the event of a spill, HFO does not evaporate as lighter fuels do, but instead mixes (emulsifies) and actually expands creating a bigger spill.
The environmental groups also note that there is currently no effective method to clean up a spill in the Arctic. Their letter states, "effectively cleaning up an HFO spill in Arctic ice-covered waters is impracticable, if not impossible."  It adds, "Coupled with its viscosity and tendencies to sink and stick to anything it comes into contact with, cleanup effort becomes insurmountable."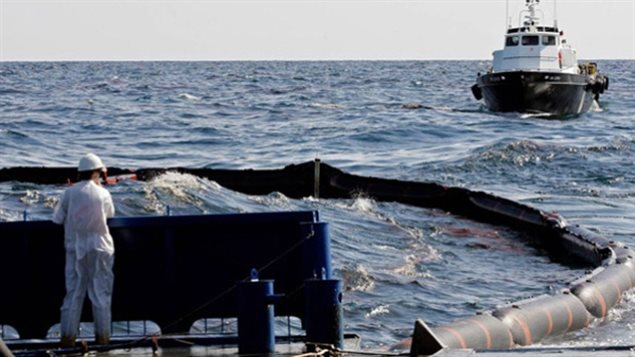 The letter also points out concerns over black carbon (soot) emissions, released by all diesel engines, but especially by ship engines burning HFO which is the lowest quality of fuel. This is in addition to the number of other greenhouse gas emissions from the huge engines with virtually no pollution controls. Burning the low quality HFO results in high sulphur emissions for example while the black soot settles on the ice reducing reflectivity, absorbing heat from the sun, and thereby increasing melting. This is in addition to global warming concerns from the emissions, and air quality and health issues.
RCI-more Arctic shipping, more warming
The international agency which set rules for shipping, the International  Marine Organization (IMO), avoided a ban in their Polar Code for shipping adopted last year. The decision to not ban HFO was mostly due to pressure from Russia with its large fleets operating in Arctic and other waters.
The issue will also be difficult for the Arctic Council which has always operated by consensus and where Russia is also a member.
Kevin Harun of Pacific Environment, an environmental group that works with aboriginal communities to protect the Pacific Rim, is quoted by the Canadian Press saying, "With this unanimity approach, it's really hard to get anything through the Arctic Council", adding, "It would be a very strong message to the IMO if the Arctic Council were to recommend a (heavy fuel oil) ban."
Harun also noted that although spills are still quite rare, the time to act is before problems begin.   It should be noted that technology already exists to convert existing engines and that new engines are available using much cleaner fuels such as LNG.
Addtional information- sources