It is truly the "mighty Mackenzie". The Mackenzie River in the Northwest Territories together with its tributaries runs over 4,000 kilometres long. The Mackenzie basin drains an area of over 1,800,000 sq.km., about the same as the area of Spain, France, Germany, and Italy combined.
But something is changing. There's now vastly more carbon in the water.
Suzanne Tank  (PhD) is lead author of the research. She is an assistant professor in the Department of Biological Sciences and Campus Alberta Innovates Programme Chair of Aquatic Ecosystem Health at the University of Alberta
Listen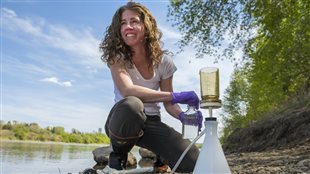 The report was published in the science journal IOPscience entitled "Multi-decadal increases in dissolved organic carbon and alkalinity flux from the Mackenzie drainage basin to the Arctic Ocean."
The study was based on four decades of chemistry and discharge data from Environment Canada and other sources including actual samples from the river.
Forty per cent increase over 40 years
The researchers noticed a dramatic increase in the amount of carbon in the water.
"When I actually ran the math and realized that it increased by nearly 40 per cent over 40 years, I was really surprised," says professor Tank.
Although the study did not delve into why there was more carbon, professor Tank speculates it could be due to warming which is melting permafrost, especially at the higher latitudes. Melting permafrost exposes more soil, and also causes more depressions in the land to collect water as well as "slumping" of river banks. All of this exposes more organic material which leaches into the river.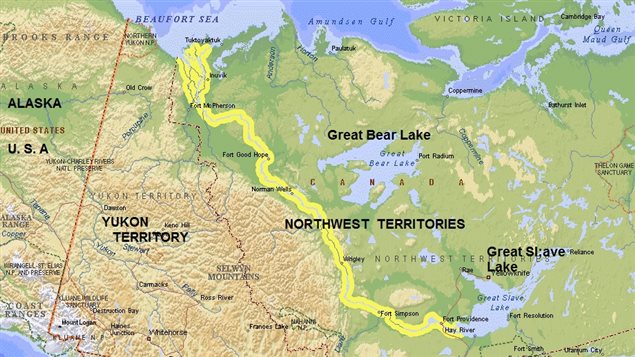 The effects of added carbon in the water could affect the ecological functioning of the river and food webs. As bacteria feed on the carbon, they will give off C02 over periods ranging from yearly to decades. Additionally the added carbon will contribute to acidification of the Arctic Ocean, which could have negative consequences for certain marine species.
Professor Tank says what's happening to the chemical composition of the river is an indication of changes happening on the land. She says the next step would be to go into the Arctic and study the actual mechanisms on land which are leading to this significant increase in the carbon levels.