The new thing in Canada it seems is to get a guide to take you through the forest to reduce the stress of urban living. It's called forest bathing but you don't bathe…at least not in water.
Ben Porchuk led a session of forest therapy at Sunnybrook Park in Toronto today. He is the head of the newly-formed Canadian chapter of the Association of Nature and Forest Therapy Guides and Program. There are only five certified guides in Canada so far but a training session for guides will be offered near Toronto on July 23.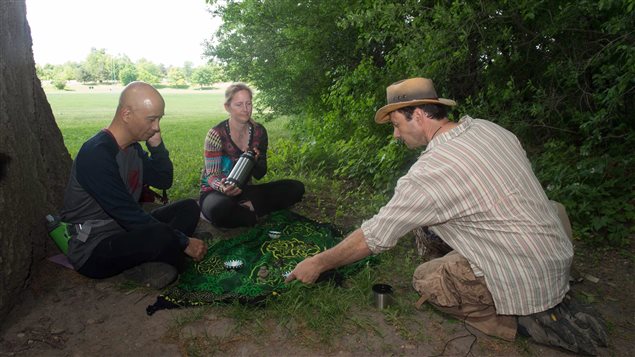 Did you forget how to do this yourself?
The practice is based on the Japanese practice of shinrin-yoku which is roughly translated as "absorbing the forest atmosphere" or "forest bathing." Trained guides offer walks that can be as long as a few hours and exercises to help participants connect with the natural world. It's supposed to help one's mood, boost immunity, lower blood pressure and increase one's ability to focus.
Of course, you can always just go for a walk in the woods yourself as Canadians have done for centuries. Perhaps some of us have just forgotten how to relax enough to enjoy it.