The Calgary Stampede, the rodeo and culture fest that supporters hail as "the greatest outdoor show on earth" wrapped up its annual 10-day extravaganza on Sunday.
For the first time since 2003 no animals died or were seriously injured.
Stampede spokeswoman Kristina Barnes cited changes made to the track and barrel positions for the chuckwagon races as a major reason for the difference.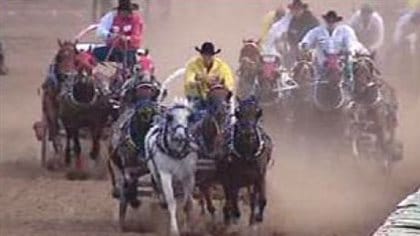 Barnes said there were no injuries in other rodeo events as well and that all animals left with a clean bill of health.
That's a far cry from the past.
Animal rights activists say at least 94 animals–horses and cattle–were killed or euthanized at the Stampede from 1986 to 2015.
But it's not just animal deaths that concern the activists.
They also abhor the sight of animals running scared–terrified–in the name of popular entertainment, which they say has wide-ranging societal effects.
Anna Pippus is an attorney and director of farmed animal advocacy for the Canadian animal rights organization Animal Justice.
RCI contacted her at her Vancouver home for some perspective on this year's death-free Stampede.
Listen