A series of one-day eye care clinics is bringing free eye care to Syrian refugees in the province of Ontario in a project initiated by a young medical student who was a refugee himself.
Tarek Bin Yameen, formerly from Yemen, was assisting a Syrian family resettle in northern Ontario. The church group sponsoring the family informed him that a six-year-old girl had an eye condition which, if left untreated, could lead to permanent vision loss.
What about the others?
"When I saw that girl, I realized that she was lucky and her family was lucky that they had a dedicated group of people that were helping them access health care services in Canada," says Bin Yameen. "I was wondering how the rest of the Syrian newcomers in Toronto and the GTA (Greater Toronto Area)…were having trouble accessing health care treatment and how many of their children had eye conditions that were untreated or were becoming worse."
Listen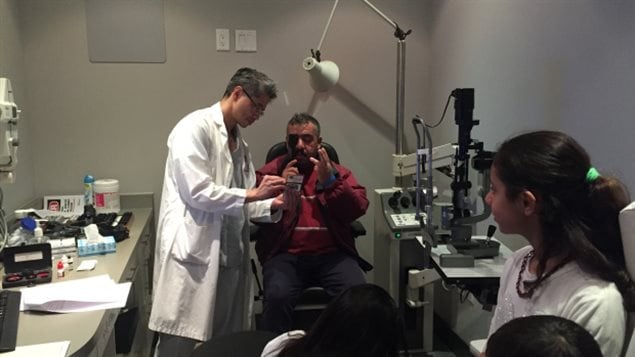 For a refugee 'survival mode kicks in'
Although eye care is provided free of charge to refugees for their first year, many do not seek health care right away. Bin Yameen says there may be barriers such as transportation, language, poor knowledge about eye care and "when you're a refugee, survival mode kicks in. The most important thing for them is finding shelter, food and enrolling their kids in school. Accessing health care treatment is not their priority."
Team surmounted barriers
Dr. Myrna Lichter, an ophthalmologist at St. Michael's Hospital, and her medical student team set up one-day clinics to overcome the barriers. They worked with the refugee settlement agency, Mes Amis, to reach potential patients. They rented school buses to bring them to clinics, and sometimes provided food while the patients waited.
"I'm just flabbergasted at the response," says Bin Yameen. "This project initially started with me and my supervisor, Dr. Lichter, (who) wanted to go into a hotel where the newcomers were there and we just wanted to do eye exams on 50 or 100 people.
'Phenomenal and wonderful'
"It has just snowballed into this massive project. And we could not have done it without the wonderful support of everyone involved. We've had over 60 specialists and optometrists involved in our clinic… over 120 medical students and optometry students involved, over 100 Arabic translators (working free of charge).
"So it is just so phenomenal and wonderful that so many organizations are willing to partner with us and provide us with donated clinic space to run these clinics."
More clinics to come
So far, three clinics in the Greater Toronto area have served 580 people, 70 per cent of them children under 18 years old. Out of all patients, 40 per cent had severe eye conditions that needed follow-up.
Three more clinics are planned for the Kitchener-Waterloo area, which is less than 100 km from Toronto.
Said Bin Yameen to CBC news, "This country gave me an opportunity to come here and study here and I'm paying it forward."