Canadian universities are opening their doors to students and academics struggling with uncertainty over U.S. President Donald Trump's travel and immigration order. While the order temporarily barring people from Muslim countries has been suspended by the courts, the legal battle will continue and it could be reinstated. Many students and academics are wondering what to do.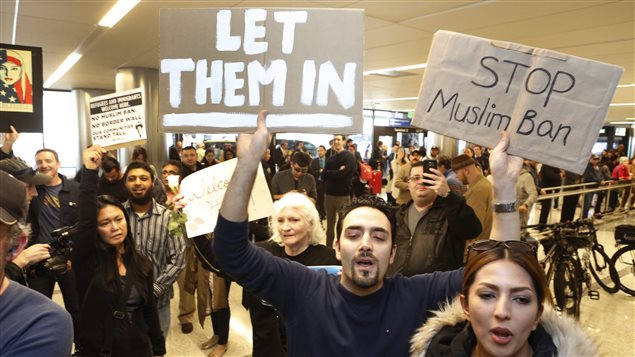 Universities put out the welcome mat
"Immediately after the executive order was issued Canada's universities went into action to send a signal to students and academics around the world that Canada is a diverse, open and inclusive society that welcomes students from around the world and academics from around the world," says Paul Davidson, president of Universities Canada.
Listen
Several Canadian universities have waived applications for foreign students. Some are offering to credit undergraduate work done at other universities. Efforts are being made to offer graduates space and supervision so they may complete their dissertations or theses and even defend them online.
Academics barred
Universities are also taking stock of the impacts on academics who were barred from entering the U.S. to attend conferences or to assume or to work in collaboration with American partners. They are grappling with what to do.
Administrators are profoundly disturbed by the obstacles to the exchange of ideas among academics.
"Universities are about mobilizing people and ideas. And the problems that we're facing as a world are global problems. We have to work across borders and boundaries. We have to bring the best talent of the world to work together to work on these problems. And anything that puts up a wall—an intellectual wall–is actually impeding the ability of our universities to do the work that we are called to do," says Davidson.
More students want to study in Canada
Even before U.S. President Trump issued his order, applications to Canadian universities have increased this year. Applications from the U.S. were up 25 per cent at McGill University in Montreal, 35 per cent at McMaster in Hamilton, Ontario and 80 per cent at the University of Toronto.
There have also been increased requests for admission from countries like Mexico and India. Davidson suspects that students who would have chosen Great Britain may not be so sure of a bright future there after people voted to sever ties with the European Union.
Foreign students are an asset
There is and will be stiff competition among countries that want to attract foreign students. In Canada, the fees they pay are quite a bit higher than what Canadians pay and universities have come to treasure them as they find government funding increasingly insufficient.