Since the 1970s it has been common to tell male from female dinosaur remains by the size and shape of the bones, but a new study suggests that may not be a correct approach. Jordan Mallon, a paleontologist at the Canadian Museum of Nature went back over previous studies and used what he thinks are more appropriate statistical tests to crunch the data. His analysis shows that there is not enough evidence to separate the specimens into two distinct groups (male and female) based on the size and shapes of bones.
This research could change our understanding of how dinosaurs evolved.
Listen
'It's important to know'
"I think it affects the way we interpret the fossil record," says Mallon. "So, for example, there's a form of selection called sexual selection, where say, the males are selecting for features and the females vice versa. A really popular example would be in the peacock where the pea hens are kind of drab looking and the peacocks have these big beautiful display fans on their tails.
"It's important to know. It's an important aspect of evolutionary selection to understand in order to understand what sorts of forces have acted on these animals as they've evolved."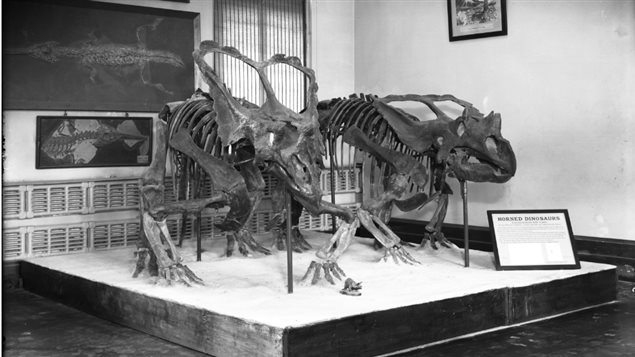 Other ways to determine sex
Mallon looked at the data on nine species including the T-Rex, Stegosaurs, and horned dinosaurs like Protoceratops. His analysis suggests there are better ways to determine the sex of dinosaur remains. For example, one could cut into the bones and look for the medullary bone which is only found in egg-laying female birds. One could use that information to determine the dinosaur's sex first and then see if it matches with particulars of the size and shape of the other bones.
Findings may apply to other creatures
Mallon's findings could also cast doubt on the way scientists determine the sex of the fossils of other creatures. "It's been a contentious issue over the years among various paleontologists, not just for dinosaurs but for paleontologists who study everything besides dinosaurs be it crocodilians or birds or lizards…So the ramifications extend beyond the dinosaurs."
The study was published in Paleobiology.