It hasn't raised the kind of backlash that followed the bumping and roughing up of a 69-year-old doctor on the now-infamous United Airlines flight sitting on the tarmac last week in Chicago, but the experience of a Prince Edward Island family in March is raising hackles and chagrin in Canada over the contentious issue of airline overbooking.
Transport Minister Marc Garneau announced last week that the government will introduce legislation this spring that he says will address the problem of passengers being bumped.
According to Garneau, the legislation will include an air passenger bill of rights and minimum requirements for compensation when flights are oversold or luggage is lost.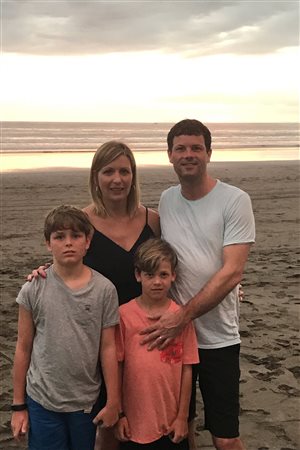 The legislation certainly didn't–and can't–come soon enough for the Doyle family, who saw the start of their planned spring break vacation ruined when 10-year-old Cole Doyle was bumped from an Air Canada flight from Charlottetown to Montreal for a connection to Costa Rica.
Father Brett Doyle booked four tickets for the flight last August, but when he tried to check in his family of four online a day before their scheduled departure, he was unable to book a seat for Cole.
Doyle's wife, Shanna, who spent hours on the phone with Air Canada, finally drove to the airport where she was told the flight was oversold and Cole had been bumped.
The family then drove to Moncton, New Brunswick to catch a different flight that would take them to Montreal to make their Costa Rica connection.
No dice. The Moncton flight was cancelled.
"I thought it was a joke, that there were hidden cameras or something," Doyle, who estimates the family spent an extra $1,000 to get their son to Costa Rica, later told Reuters Canada.
The Doyles then drove to Halifax and stayed overnight in a hotel before making their connection the following day in Montreal.
Air Canada has now issued an apology and given Doyle a $25-hundred voucher good for a year and says it may cover future expenses.
He says that still does not cover the cost of tickets for his family.
"Without sounding greedy, what I'd really like is to experience the trip we had planned for so many months and this voucher isn't going to do that," Doyle told the Canadian Press news agency.
A lot of Canadians can relate.
One of them is Gabor Lukacs, a Halifax-based mathematician and airline passenger advocate who maintains a Facebook page (https://www.facebook.com/AirPassengerRights) dedicated to rectifying what he sees as a growing problem.
I spoke by phone with him on Tuesday in Budapest, where he is visiting friends and family.
Listen
With files from Canadian Press, Broadcast News, Reuters, CBC News