Climate change research took a back seat to rescue work caused by climate change this past weekend.
The Canadian Coast Guard Ship Amundsen, an icebreaker, had recently embarked on a 133-day expedition across the Arctic.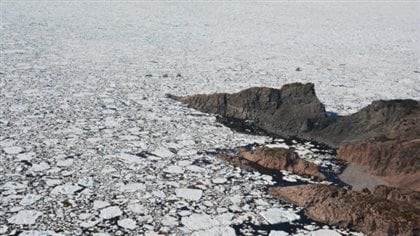 The voyage was the beginning of a four-year project based at the University of Manitoba studying both the effect of climate change and public health in remote northern communities.
The ship left port in Quebec City on May 25th, but was detoured when dangerous ice, over 8 metres thick, was clogging the water off the west coast of Newfoundland
"The search and rescue calls were coming in quite fast and furious."
The Amundsen had to change course to help fishing boats and ferries navigate the Strait of Belle Isle.
This is unlike anything ever witnessed before in the region, according to the Canadian Coast Guard,
"It was just extreme ice conditions that required everything that we've got in order to make sure we were able to provide the services," Julie Gascon, the coast guard's assistant commissioner for the central and Arctic region, told CBC News.
David Barber, a climate change scientist at the University of Manitoba, is the leader of the Amundsen expedition.
He said the ice had travelled down to the area from the High Arctic, trapping boats and in some cases causing them to take on water.
"The requirements for search and rescue trumped the requirements for science," Barber told CBC. "The search and rescue calls were coming in quite fast and furious."
"It was an extremely difficult decision to make but I believe it was the right one to make," he said.
Barber intends to resume the Quebec City to Churchill, Manitoba research expedition next year, but another team of scientists will board the Amundsen for the second leg of the expedition, from Churchill to Iqaluit, on July 6, 2017
(With files from CBC).