An asylum-seeker from El Salvador and advocacy groups will go to court to argue that Canada's agreement with the U.S.on refugees violates her rights under the Canadian Charter of Rights and Freedoms. This Safe Third Country Agreement assumes that Canada and the U.S. are safe places where people can seek asylum and so, people must apply for refugee status in the first of the two countries in which they arrive.
In practical terms, it means that an asylum-seeker coming from the United States to Canada at a land border crossing is turned back and obliged to seek refugee status in the U.S.
Listen
'E' fears deportation by U.S.
"This is a problem for 'E' because the United States is generally not welcoming of refugees from the Americas, El Salvador," says Gloria Nafziger, a refugee coordinator with Amnesty International Canada.
"She's very much concerned that she could be removed from the United States and deported back to El Salvador without having had a fair hearing of her claim…She has been subject to a decade of violence (there). She has been targeted by gangs… subject to death threats, extortion. She and her family have a very real risk of, fear of being returned to El Salvador."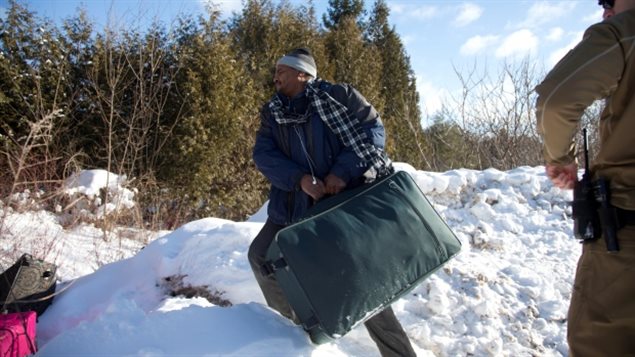 Refugees have constitutional rights in Canada
A court ruled in 1985 that refugees at the Canadian border are guaranteed charter rights as is anyone inside the country. So, in this case, lawyers will argue that the Safe Third Country Agreement violates "E's" charter right to life, liberty and security of person.
If she wins the case, refugee claimants coming from the United States into Canada at a land border crossing could no longer be turned back. The court challenge is backed by the Canadian Council of Churches, Amnesty International Canada and the Canadian Council for Refugees.
The last two groups have released a 52-page brief outlining the many ways they say the U.S. fails to meet international and Canadian legal standards in its handling of refugee claims.