After the shock of finding several dead endangered North Atlantic right whales this summer, some possible good news.
Some 13 endangered North Atlantic right whales have been found dead this summer, ten in the Gulf of St Lawrence, suspected to be victims of ship strikes or fishing gear entanglements and three more were found off the U.S. New England states.
The possible good news is that yet another right whale that had been spotted off the Gaspe coast entangled in gear earlier this week seems to have freed itself.
The whale was spotted on Tuesday, but several overflights of the area along with Coast Guard patrols have failed to relocate the animal. Federal sources say it's possible the whale freed itself and has joined a pod of 13 whales spotted in the area.
On Tuesday the whale had been identified by the New England Aquarium as a 15-year-old male, number 3245.
Members of the National Oceanic and Atmospheric Administration (NOAA) are also trying to find the animal but have said it will continue to be considered entangled until there is proof it isn't.
Federal Fisheries Minister Dominic Leblanc says the Canadian government is also trying to locate the gear to determine whether it was in the area legally, or was lost or abandoned, adding that patrols over the area will continue.
In some good news,  a humpback whale which became entangled in a cruise ship anchor chain in Alaska, has been freed.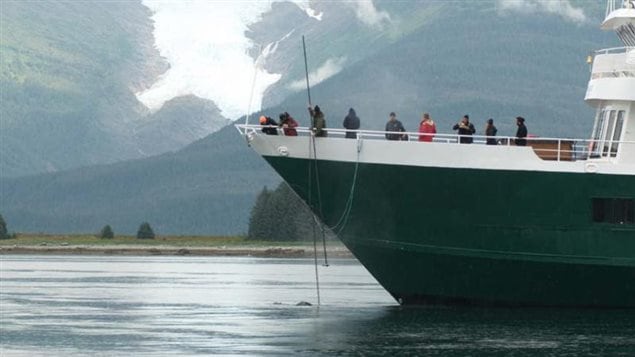 The 186-ft cruise ship with a capacity of 74 passengers offers one and two week cruises of southeast Alaska. It had been anchored for the night about 70 kilometres south of Juneau.
Several whales had likely been feeding near the ship during the night when one caught the chain in its mouth.
A special team from NOAA arrived at the ship in the morning and used an underwater camera on a pole to assess the situation.
The 35 ft (11m) humpback was determined to be in a life threatening situation although the crew had been keeping the anchor chain from dragging the animal down. The specialists then determined the best course was to cut the anchor chain. It appears the humpback was then able to free itself.
The cruise line said they hope to recover the anchor lying in about 100 feet of water, at a later time.
Additional information-sources