"At $4-$5 a pound for illegal lobster, it's easy money for poachers" (J Smith fisherman)
Commercial lobster fishermen in southwestern Nova Scotia are angry.
They've been staging protests outside of federal fisheries offices in the region over what they claim is aboriginal abuse of fishing rights.
The peaceful protests began late last week in southwestern Nova Scotia area which is one of the most lucrative lobster fisheries in the country, boosted further by increasing demand from Asian markets.
The peaceful protests are to continue this morning.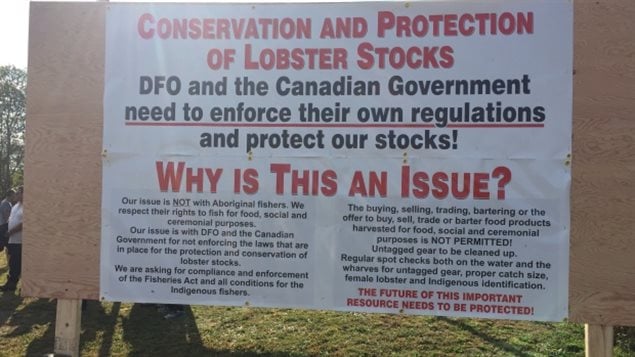 Depending on the specific region, the season in that area runs from the last week of November until May 31, after which no commercial fishing can take place.
However, aboriginal groups have the right to continue fishing for personal food, social, and ceremonial purposes.
The fishermen contend they are not against native rights, but say that some natives are abusing that right and are fishing large amounts of lobster out of season and seiing commercially to create a black market. They say all they want is for the federal agency, Fisheries and Oceans Canada (DFO) to enforce the rules.
In a CBC article one of the protesters  said of the native fishery, "They're not eating them. We know it, we can see it. They can't eat that many," and then added, "there's been no one checking them, no surveillance from our government. There's not just four or five boats out doing their food fishing, there's 23 boats right in our little area".
Bernie Berry of Yarmouth N.S.,  president of the Coldwater Lobster Association quoted in the Canadian Press said, "There's large volumes of lobster being landed (and sold), and they're using the food and ceremonial fishery as a cloaking device to get away with it".
Another protesting fisherman, Matthew Theriault said the main concern was conservation of the lobster stocks.  Speaking to the Halifax Chronicle Herald he added, "These guys are fishing at the worst time. We shut the fishery down for six months because that's the time when they (lobsters) molt, that's the time when they breed, that's the time when they get bigger. They are catching all the females. That's our breed stock."
DFO's top official in the area, David Whorley said the number of vessels involved was small and the stocks are healthy. He also said DFO has been responding to complaints.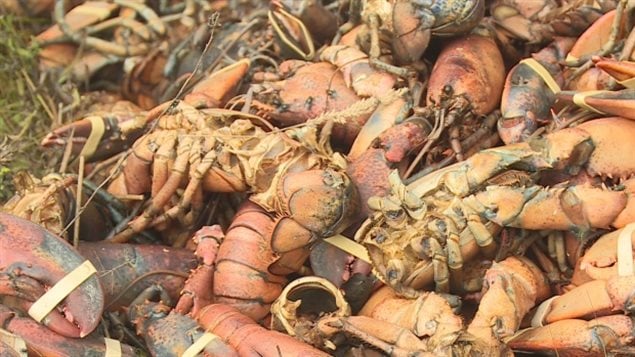 Native leader- it's our right
There are seven Mi'kmaq aboriginal bands fishing in the region. Mike Sack, chief of the Sipekne'katik Band, said he wasn't aware of any laws being broken but added that natives are allowed to go beyond the food,social ceremonial limits in order to have a modest livelihood as recognized in a Supreme Court ruling in the Donald Marshall case.
Quoted in the CBC he said, ""If our people are going to fish and exercise their right to a moderate livelihood, I support that 100 per cent".
Large amounts of lobster dumped.
Just one day after the protests, large piles of dumped lobster were discovered in various wooded locations around the Weymouth N.S area.
At least some of the lobster dumped appeared to be recent and were perhaps dumped because they are not strong enough to survive.  Some were undersize and many were females.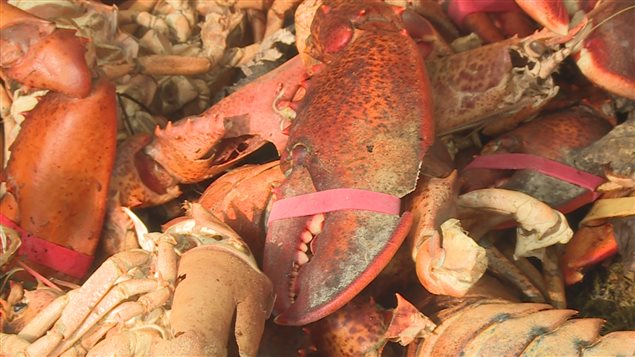 Jody Smith, a lobster fisherman told CBC, "There's poachers everywhere. If they can get $5 a pound cash for this stuff or $4 a pound cash and they can go out and get 500, 600 pounds a day, it's pretty easy money,"
He then added,  "Whatever the [DFO is] doing, it's not working obviously. Why are there piles of lobsters in the woods?"
Additional information – sources
Chronicle Herald: F Campbell: protest alleges native overfishing
Global TV: N Pace: Sep 14/17: protest + video
Canadian Press: M MacDonald: Sept 14/17: protest + CTV video
Digby County Courier: S Ericsson: Sep 15/17: dumped lobster